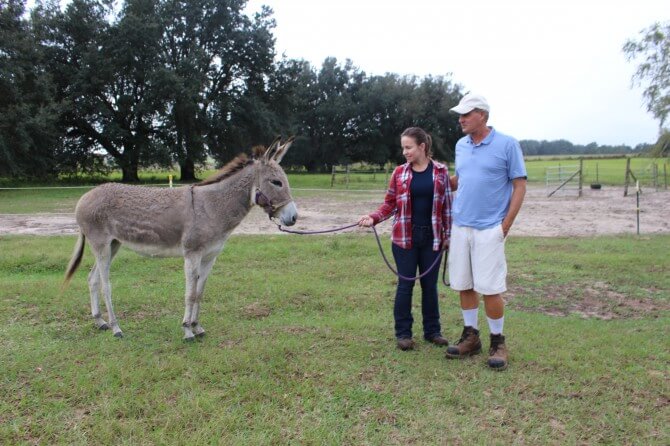 Don't tell Tina and Doug Kindred their donkey isn't worth the same value as a horse. Angel's life is worth any amount of stress, worry and money according to them.
In the fall of 2015, something was very wrong with the three-year-old jenny showing all signs of colic. The Kindred's vet, Dr. Tiffany Atteberry, examined Angel and immediately referred them to Peterson and Smith for emergency.
Without hesitation, Doug said they drove her right to the hospital and agreed to emergency surgery by Dr. Carol Clark.
"We were scared," Doug said. "Tina just loves her."
The impaction was slightly complicated and quite a stressful scene to watch, Tina said. There were times she had to leave the viewing window. The cause of the impaction: an enterolith. The Kindred's agree that unknowingly, they had seen the signs of the mineral concentration being present for quite some time.
"We had noticed a lot of symptoms over the last year, and didn't associate it with anything," Doug recalled. "We couldn't figure it out. Some days she'd be lethargic, other times she'd look bloated, other times she'd feel fine and run and play and buck and be perfect."
For six days, Angel recovered at the Peterson and Smith Equine Hospital, and everyday Tina would come to graze the donkey, giving her love and attention, since Angel is only partial to Tina. Doug counts himself lucky when the jenny willingly lets him pet her.
After a few weeks back home on the Kindred's 20-acre farm accompanied by four other horses, Angel is feeling much better, the couple confirmed. She has learned to enjoy being in the barn, even while it's under construction.
In no time, Tina and Doug are sure Angel will be back to bossing the three Thoroughbreds and one quarter cross around and trying to steal their feed. And once she is back to one-hundred percent, she may be up for her regular races against Doug and Missy, a decent mile-and-a-half mare.
Angel isn't the first animal they have brought in to Peterson and Smith for emergency colic. Righteous Fury, a Thoroughbred mare, and Don't Look Back, a Thoroughbred gelding, both had colic issues but for different reasons. Righteous had successful surgery during the early stages of her 2015 pregnancy. Don't Look Back fortunately didn't have to undergo surgery for his condition.
Being so close to Peterson and Smith is a blessing, according to the Kindreds.
"There's many advantages to be in Ocala and Peterson and Smith is one of them," Doug said.