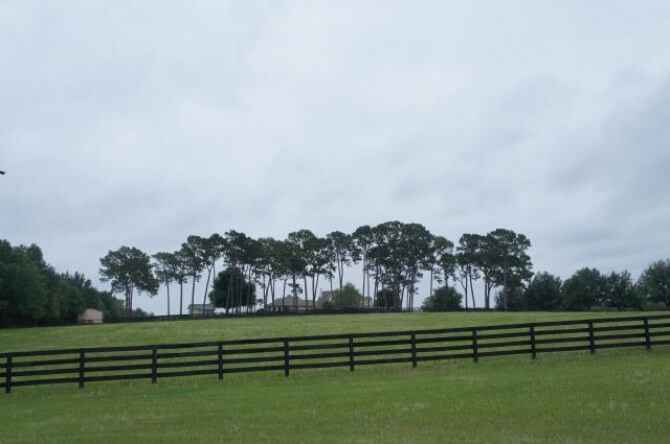 I had the wonderful opportunity to spend the morning with a truly amazing woman. Her name is Pat Dempsey and she owns Beloveds Farm which is located in Lady Lake. Beloveds Farm sits on 160 acres and is home to Arabians, miniature Arabians, Alpacas and Dempsey's dog, I Am. While at Beloveds, I was given the opportunity to hear how the farm came to be.
The story of Beloveds Farm starts in Ohio where Dempsey was raised. She grew up on a farm raising beef cattle and actually learned how to ride on the lead beef cow. When she was younger, she participated in stadium jumping and cross country riding. She even qualified to be a part of the Olympic team for dressage. Around that same time, Dempsey was accepted into Miami of Ohio to get her MBA. She had a very difficult decision, either the Olympics or college. She knew that if she went to the Olympics, she would always be riding for someone else for the rest of her life. She decided to go to college and get her MBA so she would have the opportunity to do what she does today.
After college, Dempsey spent some time in the business world working on international mergers and such in the big city. She lived out in Denver, Colorado but had offices in Chicago, LA and other big time cities. She eventually drew tired of the business world and went back to her true calling in life, horses. She sold her business and bought a 1.5 million acre ranch in Colorado, Wapiti Farm, which backs up to the National Forest. She lived out on this ranch by herself and raised a herd of Arabians. She did all of the foaling and got them under saddle by herself because it was impossible to have a breeding manager come out to her ranch for only two months out of the year. During breeding season, she experienced extreme snow storms that produced 40-100 feet of snow at a time. After many, many years of doing this, Dempsey was growing tired of this. She decided to switch from Arabians to miniature Arabians. This was much easier for her to do on her own.
After some time, Dempsey sent her minis down to Ocala where they were trained. During their time at a farm here, they contracted salmonella. This was when Dempsey realized it was time for her to move to Florida. She packed up all of her things, found a farm and moved to Florida within three weeks of finding out about the salmonella outbreak. She was lucky and was able to find Beloveds Farm. While here, she was able to get a handle on the salmonella situation and all was fine.
At this point, she had Arabians and miniature Arabians at her farm. The only thing she was missing was her alpaca's. She had a good friend who owned a herd of alpaca's and was looking to sell some. Dempsey decided to buy a couple from her to get started in the business. She is so happy she did! She said, "I've had horses all my life but I have never had more fun than with these alpaca's. They get you laughing so much just by their crazy antics." Dempsey has had such success with her alpaca's over the years. People come all the way from Houston to buy her alpaca yarn. The lowest quality she has is considered ultra-premium anywhere else.
Dempsey has been blessed with much success in her life. She has many trophies and awards for all of her hard work with Arabians, minis and alpacas. She is the proud owner of many world champions and first place winners. Even though she has had such success breeding her mini's and alpaca's, she has decided to put her focus back on her Arabians now, breeding and showing them. She has 5 mares and one of them actually had twins and the ERC was able to save them both. Dempsey said "everything with the ERC has been a win, win!" All of her Arabians have spent time at the ERC and are currently at Rohara. Dempsey said she will also continue to sheer her alpaca for their impeccable fleece.
Dempsey is such an inspiration in everything that she does and we wish her all the best in her future!