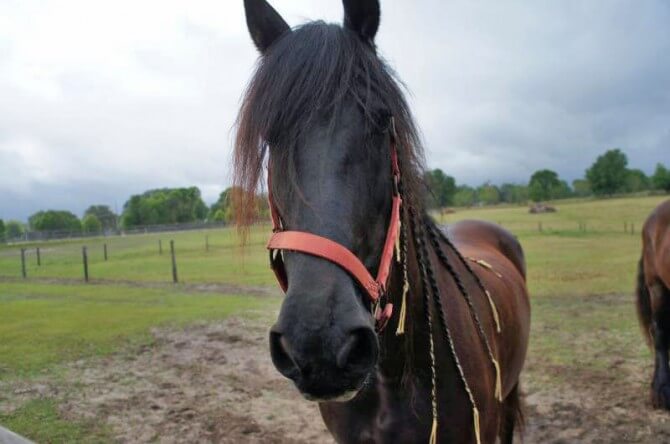 Peterson & Smith has been fortunate enough to work with Jack and Carol Angelbeck's Friesians and Clydesdales since their arrival in Florida in 2004. However, their story really begins about 30 years ago, in Missouri. Carol's daughter, Mindy, had been begging for a horse for years, and when she was 11- she got one! New to horses, they bought a "school" horse, a Quarter Horse and Morgan cross. What they didn't know, was that as a former barrel racing horse, he was a difficult ride for Mindy! Although they kept Mindy's horse, the family had done work with Anheuser Busch and fell in love with Clydesdales. They bought their first Clydesdale gelding, Chips, and moved from the city to start their own farm. Within the year, they increased their Clydesdale family by two mares, Shelly and Nora, and one foal, Sadie.
Although at first she was scared by their size, Mindy started working with them and began an almost 20 year showing career. An excellent driver, Mindy won many shows, including the Unicorn Hitch class at the National Clydesdale Show in Milwaukee at age 18- she was the only woman in the class. Their gelding, Terry, was also the top gelding in the nation. By 1995, they had 25 horses and stood two stallions!
However, later in 1995, the unthinkable happened. Mindy, at age 24, was murdered in her home. Her Clydesdales nobly carried her to her funeral; but they became a painful reminder to Carol and Jack. Carol says she could barely go down to her barn and look at the horses. However, springtime brought new life- in the form of a new Clydesdale foal. She decided to keep on working with horses, and after seeing Friesians at Equitana in Louisville, they bought their first two Friesians. Mindy had always loved Friesians.
Escaping the winters of Missouri, they brought their Friesian breeding program to Florida. Travelling with them were 10 Friesians, 7 Clydesdales, 7 dogs, and 4 cats. Although they almost moved near Gainesville, they wanted to be close to Peterson & Smith- so they chose Ocala. They've trusted their horses to Dr. Jennifer Madera for 9 years. Today they have 17 horses- all Friesians except for 2 Clydesdales, and one 1 Gypsy Vanner, Peterson & Smith truly enjoys treating their beautiful horses! You can learn more about Bluffview Clydesdales and Friesians on their website at http://www.friesianusa.com/.