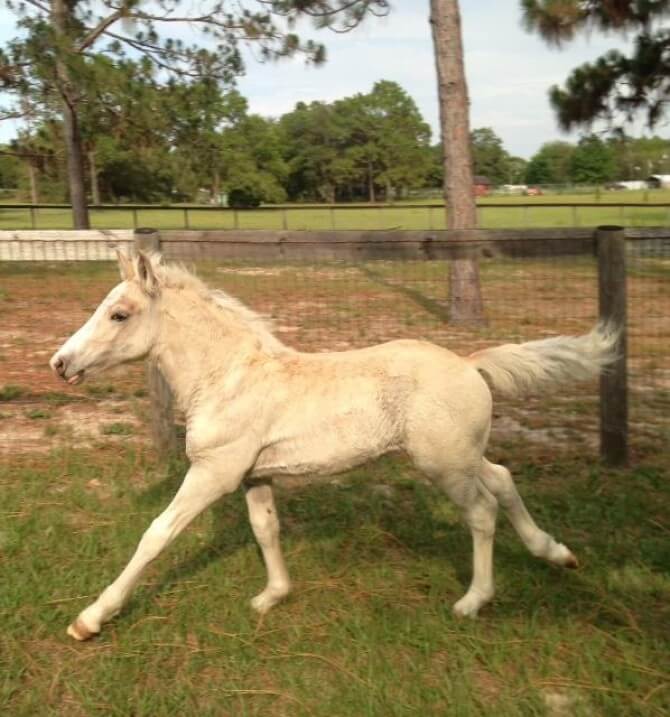 Owning horses usually means the owner has plenty of dreams and goals on a bucket list. But horse owners also know that some things don't go according to plan…and that can be okay.
Molly Poucher loved her Haflinger, Chiquita. That was her baby. Molly and Chiquita had an incredible bond of trust and communication. It was Molly's dream to have a foal by Chiquita, to train it and have her be just like her mother.
Those dreams were sadly cut short when Chiquita broke into the feed room and ate a dangerous amount of goat feed. Chicquita passed away due to colic.
"I had her for 10 years. I loved that horse," Molly said.
After some time to cope, Molly knew she wanted another Haflinger. Finding one wasn't quite easy in Florida, but she came across an Amish-raised 14-year-old mare named Matilda in March 2015. Molly immediately decided to breed her and was lucky to find a stallion that happened to be in Florida just at that time.
"I was really sad I never bred Chiquita," Molly explained.
Fate would have it the Haflinger stallion she found had a pedigree that linked him to her lost mare. Matilda was live-cover bred for what Molly believes was the first time. There had been no mention of Matilda having foaled prior.
A long-time client of Peterson and Smith's, Molly had Dr. Tanya Thacker conduct a pregnancy exam. Then, Matilda was sent to the Equine Reproduction Center in Summerfield to identify the foal's gender, all the while Molly hoping for a filly.
"I asked if he was sure that it wasn't a girl," Molly explained, saying the veterinarian said he was 95% sure it was a male, much to her disappointment. "I said, 'Oh good, there's a 5% chance it's a girl."
The pregnancy went according to textbook, not giving Molly any cause of concern. Matilda gave birth right on time on April 11, 2016 in the early hours of the morning to a colt making Molly a first-time breeder and Matilda a new mom.
Molly called Dr. Thacker to have the foal and mare examined, since Molly thought the colt seemed a little small.  Thacker arrived to the barn 16-hours after Matilda foaled while Molly was at work. Tacker explained to Molly that everything appeared normal but had done some blood work on him, just to be sure.
The test results indicated the foal, who Molly named Charlie, had abnormal results. Thacker decided to come back at 4 a.m. the next morning to draw more blood for further testing.
It wasn't good news. The foal was showing signs of Neonatal Isoerythrolysis.
According to Dr. Carol Clark's 2006 VetNotes:
"Neonatal Isoerythrolysis (NI) is life threatening cause of anemia in neonatal foals. The term means that the foal's own red blood cells (RBCs) are being destroyed (lysed) by antibodies from another horse (the mare). As a consequence of the red blood cell destruction, hemoglobin is released. Once so much hemoglobin is released that it overwhelms its own metabolism, bilirubin accumulates in the blood. A yellow color appears on the skin, mucous membranes, and sclera, which is normally the white part of the eye. The foal is then said to be jaundiced which is where a lay term for this condition arises: jaundiced foal syndrome. Another medical term for jaundice is icterus. The destruction of red blood cells can cause anemia so severe that it results in the death of the foal. Foals affected with NI have their red blood cells destroyed by antibodies they have ingested from the dam's colostrum. Usually colostrum contains only "good" antibodies that give the foal its first protection from various diseases. However, some mares have made antibodies against certain red blood cell types that they do not have. For this to have occurred, the mare's immune system has been exposed to a red blood cell type that she does not have. This exposure could have been via a previous pregnancy where the foal inherited the blood type from the stallion OR from a blood transfusion. Exposure during pregnancy is thought to occur from leakage of the foals red blood cells across an inflamed placenta or at the time of the delivery. If the mare has a subsequent pregnancy with the foal inheriting this same foreign blood type, she will respond with antibodies which will be incorporated into her colostrum. Once ingested by the foal, the antibodies cause clumping and lysing of the red blood cells – a hemolytic anemia."
Charlie and Matilda were taken to Peterson & Smith Equine Hospital within hours of the results coming back to be admitted and put under Dr. Clark's care.
In the week that Charlie was at PSEH, he had to have fluids, was monitored for any signs of kidney failure, given insulin and steroids. Ultimately, it was decided to give him a blood transfusion, after which he began to show signs of improvement and was allowed to go home with strict orders of stall rest.
"(The staff) really (does) a great job there, I can't say it enough," Molly said.
After several months, Charlie is a rambunctious, mischievous colt who likes to speed around the paddocks and irritate Molly's other horse, an older gelding. As far as handling goes, Charlie got star treatment that proved a bonus in making him so easy to handle, be lead and even begin standing for the farrier.
"He was handled so much, he's so good," Molly explained, adding how with her busy schedule as a nurse, she is only able to work on his ground manners about 10-minutes every night.
The technicians at the hospital particularly enjoyed having him at the clinic, many saying what a sweetheart he was and good at giving kisses.
"He's pretty irresistible. That's just what the Haflingers are like," Molly said.
Molly said Charlie will make a good driving pony one day and she doesn't have any future plans of breeding again, especially since this time was so complicated.
"This was on my bucket list. I wanted to do it once in my lifetime."