On occasion, an intern comes along that is the perfect fit, that has passion and drive to make their mark in equine medicine, and we have a place for them to shine. Dr. Federico Morales was that young veterinarian.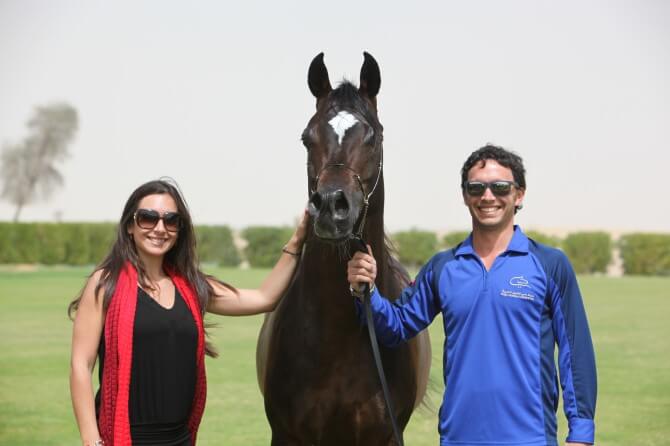 Dr. Frederico Morales grew up in Caguas, Puerto Rico with a younger sister, mom and dad. From the time he was born they have had family pets, "Our parents had me and my sisters take care of our pets in order to teach us to be responsible. We lived in a suburban small house so there was no space for large animals but we never lacked the dogs and cats."  Morales never owned horses but did ride his fair share at either the local trail riding camp or at his friend's farm riding on the beach.
His parents' instruction of learning responsibility through caring for pets made a lasting impression on Morales. "Ever since I can remember I wanted to be a vet when I grew up… I think many of us (vets) actually have that same memory of when we were kids.
Because I really knew what I wanted to do in life, I made sure that my academic stats would be what I needed in order to have a good chance of getting into vet school." That wasn't always the easiest task, though. "When I was a junior in high school my high school adviser told me that I should have an alternate plan because she didn't think I would make it into to vet school… that put a chip on my shoulder and I made sure to prove that was a wrong assessment. I took the path of animal sciences and never looked back and here we are today, very happy about my career choice. When you're doing something you like it doesn't seem like a job," he explained.
Having not grown up with horses of his own didn't stop him from having a deep fascination and interest in equine medicine, so he focused his career down that path. "My main interest is equine reproduction. When I started my bachelor's degree in the University of Puerto Rico at Mayaguez, I became very interested in breeding management. I worked as a dairy cow A.I. technician and later I did my work study at a university swine farm working to provide fresh semen to the swine producers in the area for artificial insemination. Me and my colleague where in charge of the whole project and managed all aspects of the swine breeding section. I kept getting more and more interested in repro but the large animal side left me wanting more. The medicine seemed to be more as a herd approach and I wanted to work on individuals. That really made me get interested and learn a lot more about horses."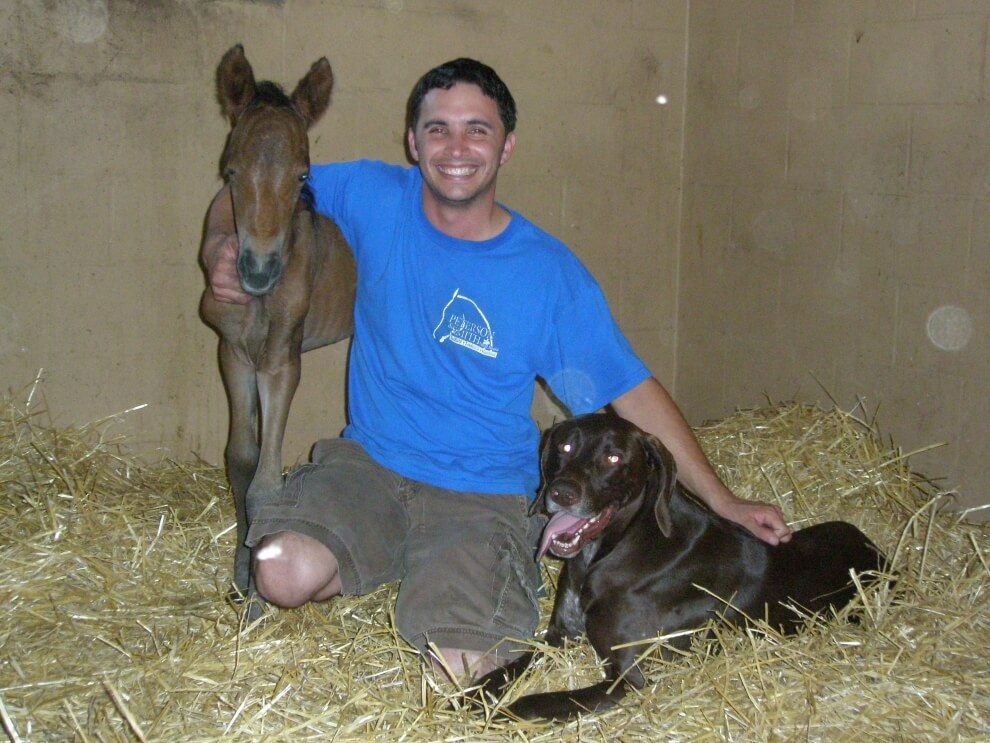 "The fact that I can apply my knowledge and experience to directly help specific mares or stallions produce offspring is amazing. I love having the challenging cases that owners almost give up on. Sure they're a headache to figure out, but when you do, the rewards 11 months down the line are amazing!"
Morales was a graduate student in veterinary school at Ohio State when he visited a few practice, and Peterson and Smith was one of his top destinations. "I knew that P+S had an equine repro center and I really wanted to see the facilities and hopefully be able to rotate through it if I was accepted as an ambulatory intern. Well, things worked out being even better than I expected. When I finally visited, I found out that they were going to start offering an internship that would be full time at the repro center… wow! Now I really wanted to get it. I did my best to try and impress Dr. Matthews and Jose and it seemed to work. Dr. Matthews personally asked me if I would be interested in the position and I didn't hesitate. I had spent 2 weeks there and was sure it would be a good fit for my professional development. I started my internship in 2007 and was the first intern at the repro center. Accepting that position and working alongside Dr. Matthews, Dr. Thacker and Jose has definitely been one of the best decisions career wise in my life."
Morales can't brag about his internship experience with Peterson and Smith enough. "I got everything I was looking for in an internship and more. When I got out of school I was looking for a hands on type of internship and I surely got it at the repro center. I got to live at the center so I would take care of a lot of after hour procedures and emergencies. The challenge, he said, was feeling confident enough to know exactly when he would need to ask for advice on how to work up a specific case. "I also needed to become efficient at many new procedures in order to prove to Dr. Matthews that he could trust me to fill in when him or Tanya were not there." One of the most helpful things of the internship, Morales said, were the intern techniques teaching sessions that we would have with the different partners and associates. "Those really helped us improve with the procedures that we were very likely to have to perform both as an ambulatory intern and at the hospital. The internship at the Repro Center gave me hands on experience with all aspects of equine medicine, and that has proven very valuable in my day to day life since I'm now in charge of a whole stud farm of around 350 horses."
One memory will never leave Morales; "I remember that first dystocia I had to deal with on my own, looking back now it would be a simple case but as an intern and getting to go at it solo for the first time, it was the coolest (and scariest) thing. I was able to fix the flexed carpus and help that foal out alive and kicking. It was truly a great reward and made that late night so worth it."
Morales said he spent the whole internship year shadowing Dr. Matthews and the seasoned veterinarians became even more than just a mentor. He said it was amazing to see him work through the cases. "I definitely owe Dr. Matthews so much of what I have become. I always saw in him what I wanted to be in the future. I really did learn a lot from him, from his medicine and repro knowledge to the way he approached every procedure with such attention to detail to his incredible work ethic. Everything I learned from him I have continued to do in my practice and it has surely paid off. To this day, I still contact him with my tough cases to pick his brain and he still doesn't fail to impress me. Thanks for everything Doc!!!!"
But his internship experience was rounded out by the other incredible support veterinarians, management and staff, he said. "I also have to make a special mention to Dr. Thacker and to Jose. They both helped me a lot during my years at P+S and made me become a well-rounded repro vet. Tanya gave me a lot of guidance and good tips with the mare handling and palpations, she helped me to become very efficient with the ultrasound at the recipient shed. Jose was my stallion handling and frozen semen teacher and I did learn (and still use) some very cool tricks from him."
After Morales's internship year, he got offered a position as the resident veterinarian at the Equine Reproduction Center. "I was delighted by the opportunity.  I had started transferring some embryos, was training to be a frozen semen technician and Dr. Sharp was helping Doc to set up the oocyte transfer program. The upside to staying was amazing and I gladly accepted. I stayed two more years at Peterson and Smith as an associate."
During the offseason of 2009, Morales was offered a job in Dubai. It was an incredible opportunity, but Morales explained having mixed feelings about leaving Peterson and Smith to accept it. "I discussed it with Dr. Matthews, I wanted his opinion and guidance on what was going to be a huge decision in my life. After we talked, I decided to come to Dubai for an in person interview in January 2010. I accepted the job offer but finished the breeding season with Doc and moved to Dubai in August 2010."
It resulted in being the best choice and opportunity for the young Morales. To date, his still works for the farm, Dubai Arabian Horse Stud, a government owned facility that breeds and shows pure bred Arabian halter show horses. "I got the opportunity to start my own clinic at the farm and implement the embryo transfer and frozen semen export programs. At my age it was a challenge that I didn't want to miss up on. I always thought to myself that I had to at least try it, if I failed, at least I had tried.
Since I started here we have increased the number of foals produced each year. We now produce around 150 foals each season with about a third of those being the result of embryo transfer. Last year we had an amazing achievement in that our home bred 3 year old filly, D Shahla, won the world championship at the Salon du Cheval in Paris. It was the first time a home bred horse had brought home the title. She was an embryo transfer foal from my first season here that was a dystocia when born and I had to manipulate her to pull her out alive. I consider her my baby and I'm so excited she got to win it!!"
This current season the farm has two yearling foals, a filly and a colt, from the same dam that are both top contenders for the yearling world championships.
Reflecting, Morales said these opportunities may not have been available had it not been for his time at Peterson and Smith. "To me the fact that I was able to move half way around the world and start the programs here from scratch makes me very proud. When I first came here, nobody was doing embryo transfers successfully. My employers were actually doubtful that I would be able to do it with such a high success rate as we do. Before me, they sent all of their mares to CSU to have the embryos flushed and transferred. After my first season here, the other farms were asking my bosses for permission so that I could work on their difficult mares or breed the ones that were going to dead stallions with not enough frozen semen. My boss even bought two mares that he told me, 'I bought them only because I have you here working for me.' One of those mares had been in Italy at a repro center for the last three years with no foals to show for. After trying for two cycles with no success, I ended up getting five embryos in foal before the end of the season. That made me feel amazing about my job!"
To make the jump, thinking that I could potentially pull it off but not really knowing what would happen, and now being in this position has been an amazing ride. I first came to Dubai with a 1 to 2 year plan and now, 6 years later, I'm hoping things continue as they are right now and we can spend much more time here. We'll see what the world has planned for us…
My current goal is to continue improving my breeding program at Dubai Stud. I compete against myself with the numbers from one season to the other. Every year I want to end up with a better transfer success rate, with more foals per donor, with better pregnancy rates etc.… I really do love the breeding side of equine medicine so I hope that I can continue having a practice were I get to mostly do repro for a living. I always thought it would be a great achievement to become board certified in Theriogenology but the truth is that after being a practitioner and starting a family it's difficult to change your mind set to go back to training in a university setting… once again, we'll see. As of right now my main goal is for the owners here to keep trusting me to make a reality all of the plans that they have for the farm.
Morales isn't shy about boasting of his family, either.  He has a beautiful wife that followed him half way across the world so that they could make all of this possible. Her name is Monica and she's also a veterinarian, a board certified oncologist graduated from the U of Florida. They have a 'wonderful and crazy' 2-year-old daughter named Alejandra Luz that was born in Dubai. "I was given the opportunity by the doctor to actually deliver my own daughter, (because) they knew I pulled foals out for a living, and that will most likely be the greatest thing I ever did in life, will be difficult to top that off that's for sure." They currently have a cat and two mares at the farm and expecting two embryos to be born from one of them this next season. They named their grey mare Carla so that Alejandra could easily say her name, but now Morales said she just calls all grey horses Carla. They had a dog until this last spring, unfortunately he passed and it was heartbreaking for all of them. "He lived with us at the Repro Center for all of the 3 years there and had moved with me all over the world."
Being in Dubai and near the ocean is a win-win for Morales whose hobby is the ocean. "I grew up in Puerto Rico so a lot of the activities had to do with it. My main passion is bodyboarding. I still try to travel once a year just for surfing, just thinking about it makes me want to jump out of the chair and get in the water. Unfortunately the waves in Dubai are not that great but we do have some world class waves just a short flight away from here. Both of us are scuba divers so we do that together any chance we get."
He's also always been a sports lover so one of the things that he loves about Dubai is that there is a huge sports scene. He plays basketball and paddle tennis around 3 times a week.
"I want to make sure to say a huge THANK YOU to everyone at P+S because I owe all of you so, so much. Especially Doc, I'll never get tired of telling him how much he means to me and my family and how much he influenced my formation as repro vet."