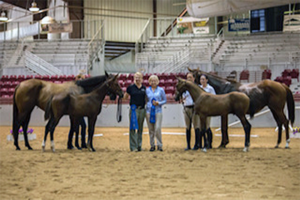 Dr. Peggy Fuller's interest in horses began at an early age when she grew up riding in the hunter/jumper ring. As she began to focus on a career, the thought of working outdoors with horses was always appealing. Choosing to follow that passion, she applied and was accepted to vet school. In 1986, Peggy graduated from University of Florida Med of Veterinary Medicine (UFCVM) with a primary interest in equine reproduction, as well as performance horse medicine. Post-graduation, she began her own practice in Jacksonville, FL, after being fortunate enough to have been mentored by Dr. Woody Asbury and Dr. Michele LeBlanc.
In 2010, Peggy acquired the stallion Darco's semen. Two years later, Darco passed away. To conserve semen, the straws were divided into ICSI doses. ICSI only requires one motile sperm for every oocyte collected. Separating the straws into ICSI doses allowed for more attempts at ICSI, with the thought of producing more foals in the future. Her first experience with ICSI was with two retired Grand Prix jumper mares but their oocytes were not optimal. A few years passed and she decided to try again with a well-bred younger mare who was still in competition. The mare arrived at Peterson and Smith's Equine Reproduction Center for the aspiration portion of the procedure. The oocytes collected were then sent to Texas A&M. The oocytes were injected with Darco's semen and two embryos were produced from a single ICSI procedure. The embryos were then sent back to Peterson and Smith, where they were transferred to recipient mares.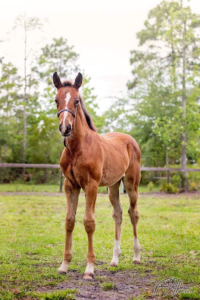 Eleven months later, the two ICSI foals were born and Peggy is now thrilled with the promise they are already showing:
"The two ICSI foals we produced scored above 80 in the foal inspection for the Belgian Warmblood Keurings. The filly is currently 4th in the country and the colt is in the top 12. The mare owner, Amy Nelson of St Augustine, FL, plans to keep the filly and eventually compete her. The colt was sold as a weanling to Claire Lee, Haddenloch LLC in Ponte Vedra, FL. With the advice of the Belgian inspectors she plans to keep him intact and compete him through the levels. Both foals have great personalities and are easy to work with. It will be fun watching full brother and sister grow up. I couldn't be happier with the job Dr. Matthews did!"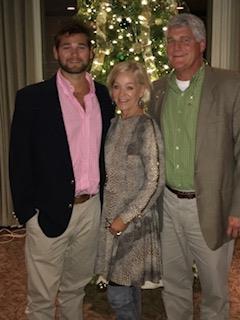 Dr. Fuller now shares the love of her sport and knowledge of equine medicine and reproduction with her students as an adjunt professor for the UFCVM. She is also the board chair for the Jacksonville Equestrian Center. Even with such a busy career, Peggy still manages to mentor her son through vet school, spend time with her family and garden in her greenhouse.
Dr. Peggy Fuller has been a valued customer to Peterson and Smith for many years and we wish her, her family, and her career all the best. We are thrilled to share her story and her success with ICSI as we introduce a full in-house ICSI procedure at the Reproduction Center!
ICSI is the new age of reproduction, allowing difficult mares and stallions to reproduce. This requires less monitoring of the mare's cycle with only a forty-five minute procedure necessary. The maturation of the oocytes to embryos is all done outside of the mare's body. All embryos produced are either frozen or transferred to a recipient mare. Current statistics are to expect one embryo for every two aspirations. For more information, please visit the Equine Reproduction Center's tab located under Veterinary Services.