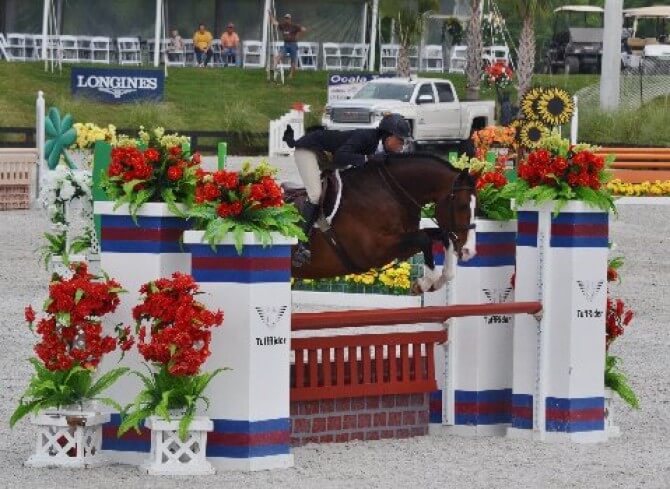 Many great horses launch their careers in Ocala. Race horses, barrel racers, eventers, dressage, and especially jumpers and hunters are among the list. Redfield Farms owner by Emil Spadone appreciates the Horse Capital of the World so much he splits his time between Ocala and New Jersey.
Spadone's current pride and joy is Fandango HX, a five-year-old KWPN approved stallion winning in the hunter rings.
Just starting his American career the winter of 2015, Fandango proved he is something to marvel by winning the $25,000 Devoucoux Hunter Prix during the finale at Horse Shows in the Sun Ocala.
"He got a little tired," Spadone recalled of the young bay stallion's run. "That was a big ring and he hadn't been in that stadium before and that stadium is really big. The first round he went amazing and won…The second round you could see he was getting a little tired and he rubbed one fence and then I was a little bit nervous."
Adrienne Iverson rode the new hunter champion in a difficult course designed by Buddy Brown. In the first round, Fandango scored a 92, and an 81.5 in the second. He beat out Harold Chopping and Caramo, and Dress Balou and Aaron Vale.
Fandango was bred by Stal Hendrix, known for their attention to breeding prominent Dutch Warmblood bloodlines, and out of Vittorio. Doing a large amount of his business in Europe, Spadone said he saw Fandango early on and knew he had hunter quality potential.
"I saw him start his first little shows and told Paul (Hendrix) from the beginning, 'I think he's a top hunter,'" Spadone said. "He jumps in such a good style and he's so beautiful; everything."
Paul was quite attached to Fandango having watched him as a foal, and found it difficult to sell him. Spadone agreed to co-own the horse and have him brought to the States to further his career in the ring and as a stud.
While Fandango was still in Holland, at just four-years-old, his offspring were already being called the best crop of all stallions. Spadone has had great success with embryo transfer and collecting his stallions in the past, he had no doubts he would bring him to the Peterson and Smith Equine Reproduction Center in Summerfield.
Fandango is as calm and kind as a stallion as he is a riding horse. When Jose Madera, manager at the ERC, first collected Fandango to harvest semen, Spadone thought something was wrong because he was so gentle and relaxed. That's just the kind of horse he is, his owner said, they can collect on a Tuesday and be showing on a Wednesday.
"He is like a dream. He is a total gentleman; he is not in a rush."
Spadone has been on board with the embryo transfer program for many years with Dr. Phil Matthews, Spadone said. Currently, Fandango has frozen semen available, but also uses freshly collected.
"We have our own mares, and I believe, a little bit, if you want other people to believe in your stallion you better believe in him yourself," he said.
They currently have 14 mares in foal by Fandango; some through embryo transfer and some carrying. Spadone said he is most excited to see what is produced from two mares; a gray mare named Corinna RS, who won the pre-green incentive class at the most recent Swan Lake Horse Show, and a Don Stewart owned mare, Lillywood.
While in Holland, Fandango was bred to many jumpers, but Spadone is more partial to the hunters, though he said he won't rule a jumper breeding. Hunters are just more special to him and he believes Fandango has what it takes to make great hunter contender foals.
"When you're looking for a hunter you have to look for a lot of different attributes: they have to be beautiful, they have to be good movers," Spadone said of the qualities Fandango brings as a sire. "They have to have balance, they have to have perfect lead changes, they have to be brave, probably upmost, they have to jump in really good style but also have to have good scope and stride and range and all the things you look for in a god jumper as well."
We wish Emil Spadone and Redfield Farms, as well as our patient Fandango HX all the best in their careers. It is a pleasure and with great appreciation to have this accomplished young horse as our patient.
For more information about Fandango HX and schedule a breeding, visit http://www.redfieldfarms.com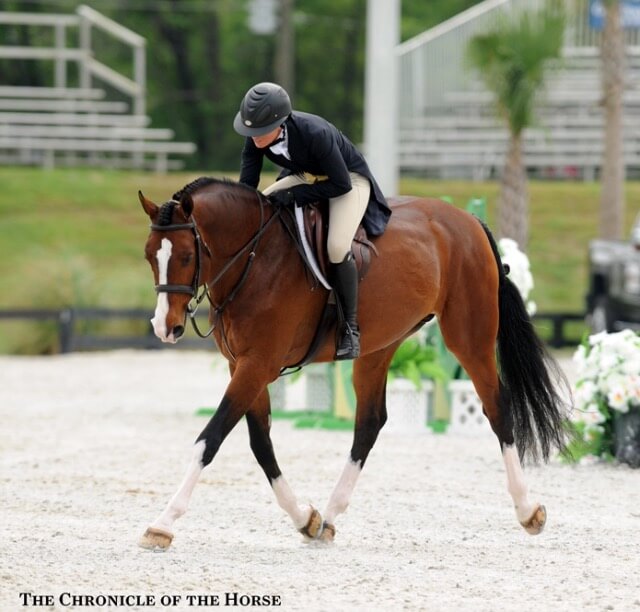 Photos courtesy of Emil Spadone and Redfield Farms