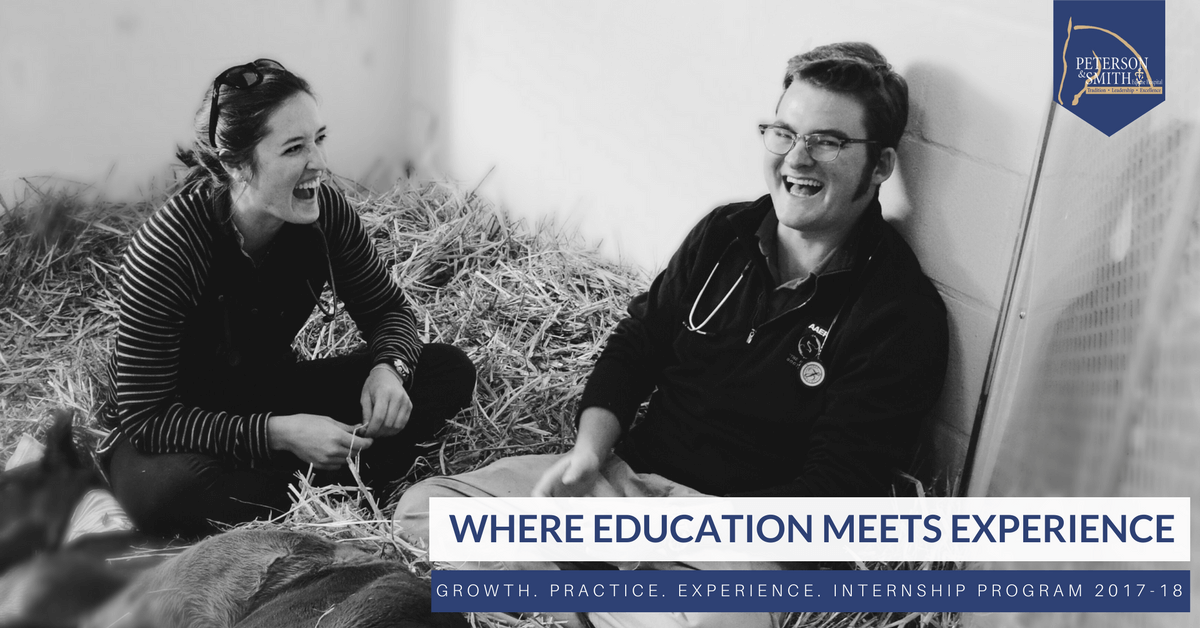 Peterson & Smith Equine Hospital has openings for yearlong internships (Ambulatory, Hospital and Reproduction), starting this June and July 2017. We are located in the "Heart of Florida" and in "Horse Country", with ample opportunity for different experiences.
Equine Veterinary Hospital Internships– June 1, 2017 to June 30, 2018
We are seeking two interns to fill roles in a large equine referral hospital. Clinical exposure will include rotations through Medicine, Surgery, and Sports Medicine specialty services.  The successful candidate will assist in case management and procedures typical for a high volume equine referral hospital during the busy breeding season.  Emergency call and overnight duties will also be expected on a shared, rotating basis.
Equine Veterinary Ambulatory Internships – July 1, 2017 to June 30, 2018
Two ambulatory interns needed for full-service referral equine hospital.  Interns spend approximately six weeks on rotation with senior ambulatory clinicians to become familiar with the area and our core clientele.  It provides time for intensive instruction and mentoring, and allows time to learn the administrative part of our business: submission of lab work, billing, fee schedules, standard examination forms, etc. Once this introductory period is over, the candidate will be expected to practice independently (with the guidance of our established veterinarians) and will be set up with their own vehicle, equipment, supplies, etc.
Equine Reproduction Center – July 1, 2017- June 30, 2018
Equine reproduction intern needed for a full-service reproduction facility, located in Central Florida. The successful candidate will practice at the Equine Reproduction Center located in Summerfield FL (about 26 miles from the main hospital).  They will work together with Dr. Phil Matthews, Head of the Center, in all aspects of equine reproduction.   They will also instruct and manage 8 undergraduate working students who will assist with treatments and general procedures on the farm.
____________________________________________________________________
We seek energetic, team-oriented Interns who are eager to help grow the practice. They must have excellent communication and people skills, a strong work ethic, and a desire to provide exceptional client service.  The successful applicant will possess a DVM or equivalent and eligibility for licensure in Florida.
Interns are required to attend a series of practice wet labs during the internship.  A competitive compensation package is offered including health, life, disability and professional liability insurance, vacation, state licensing fees and AVMA membership
Housing on-site is also provided for ERC only. To apply e-mail letter of intent, CV and three letters of reference to cdray@petersonsmith.com.