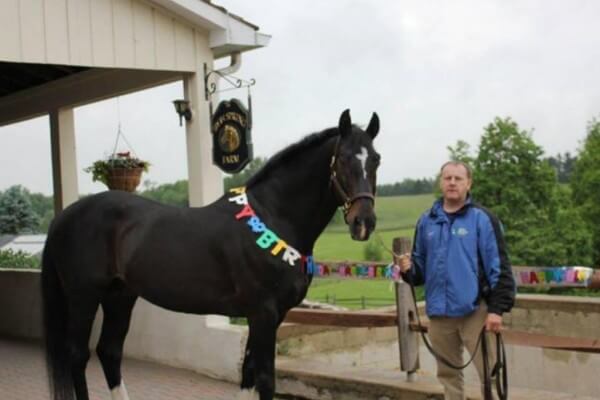 How did the farm get started?
Iron Spring Farm began with one stallion and one mare, and then one foal. Now we have a dozen KWPN and Friesian stallions, along with a select group of mares.
What is your farm's goal?
Our goal is to make the best sport horse bloodlines available to North American breeders. We want to produce, and help other breeders produce, world-class athletes with great temperaments and exceptional movement.
What have been the keys to your farm's success?
We carefully select our stallions and mares for their bloodlines, as well as their individual merit. A good disposition is always the first consideration, along with conformation, movement and athletic ability. For the stallions, a performance career is essential. We also look for stallions and mares that produce exceptional offspring. Breeders also must be willing to look at what isn't working in their program and make the necessary adjustments.
Describe a typical day on your farm.
A typical day at Iron Spring Farm starts early, ensuring that each horse is happy and healthy. We do this by providing quality nutrition, turnout in paddocks and fields, veterinary and farrier care, exercise and love. We have stallions, mares, foals, young horses and horses in training. Each horse has a customized program.
What are your greatest achievements?
For more than 35 years we have been fortunate to produce numerous champions, including Judgement ISF who represented the United States on numerous international show jumping teams, including the World Equestrian Games. He won $1.5 million in prize money and Grand Prix at prestigious shows like Spruce Meadows, La Baule and Hickstead. There have been dozens of Dressage at Devon champions, USDF Horse of the Year and All Breeds Awards winners, USDF Regional Champions and international competitors. Each of these accomplishments is extremely special, but some of our favorite moments are the stories from people who bred or bought a horse from us. It's so rewarding when we hear about an owner or breeder's success, whether that's at a local show or an international championship.
How long have you worked with Peterson & Smith vets, and why did you choose them?
Peterson & Smith has many resources at the clinic, including numerous specialists. They were highly recommended to us and provide great service. The veterinarians are very knowledgeable, wonderful people and really care about the horses.
Iron Spring Farm was ranked #1 by the United States Equestrian Federation for Dressage Breeding in 2013 and stands more than a dozen warmblood and Friesian stallions.