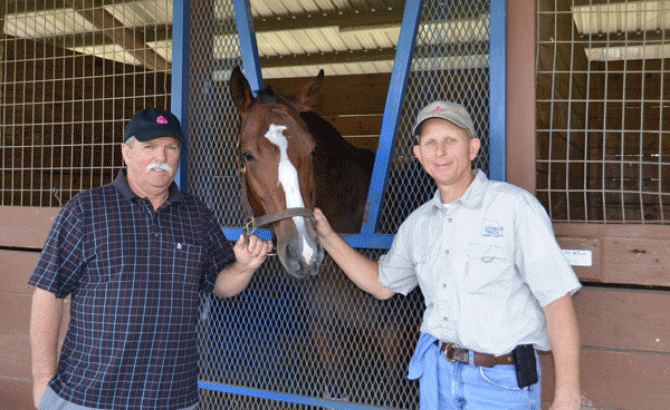 Jeff and Carolyn Kirk have had many success stories as trainers while in Ocala. When asked if they had any "stand out horses" they've trained, the names just kept coming. Names such as Derby hopeful Hoppertunity, New Years Day, who won the Breeders' Cup Juvenile race in 2013, Rockport Harbor, Hardspun, Book Review, Guilt Trip, Lemon's Forever, Mass Media, Room Service, Kazoo, Round Pond, Flashback, Power Broker, Corporate Jungle, Casino Host, Code West, Saint Anddan, and Midnight Lute. This is just a small amount of big names that have come and gone from the Kirk's training facility over the years.
Jeff Kirk grew up in a family that was all about horses. This is what he was born to do. He spent many years up north training horses in Maryland. From 1982-1989, he had trained horses for about 454 races. In 1989, Jeff decided to move to Ocala where he met Carolyn. Carolyn was born in Ocala and has lived here all her life. When Carolyn was younger, she was involved in showing horses. Horses have always been a big part of the Kirk's life so it just seems fitting that when they met, they started training thoroughbreds together.
At the Kirk's training facility, they oversee around 70+ horses during training season. What makes the Kirk's training facility special is they put all of their focus on the individual horse rather than training them as a group. Like people, each horse is different and learns in their own way. Jeff Kirk said they try to train according to the individual and give them the time they need. They don't try and rush the horses or force them to do things they are not ready for. Some horses require more time than others to move on to the next step and that is exactly what the Kirk's give them.
Jeff and Carolyn both credit their success to their clients. They believe having the right clients that allow them to do the right thing for each horse is very valuable. Jeff said, "The chances to get clients like we have are once in a lifetime opportunities." The clients he was speaking of are Gary and Mary West and their racing manager, Ben Glass. Without them, the Kirk's wouldn't be able to do what they are most passionate about.
The Kirk's have been a client of Peterson & Smith for 5 years. They chose our practice because of the full service that we offer and for Dr. Rood. The Kirk's and Dr. Rood work very well together. Jeff Kirk said Dr. Rood is, "Overly intelligent, patient and they trust him completely."
With all the success the Kirk's have had over the years, we look forward to following their journey and see which horse is next to come out of their training facility.