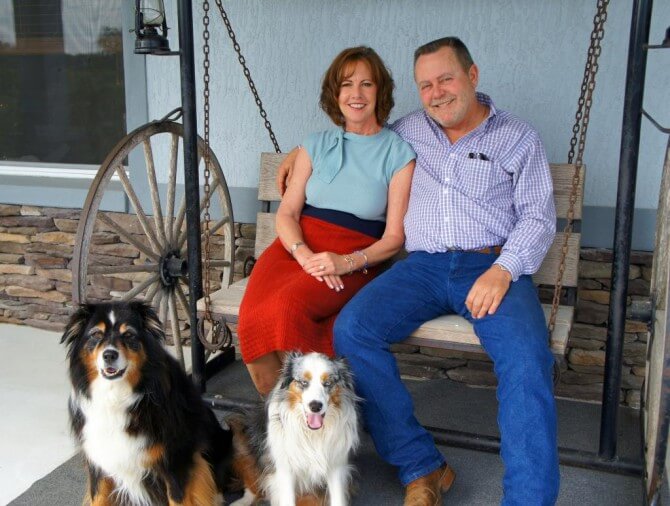 Discipline: Thoroughbred Racing
Crystal and Brent Fernung, the couple behind the Ocala based thoroughbred operation, Journeyman Stud, have been together for a long time. To be specific, they were high school sweethearts in Sharpsville, Indiana- and each of them has been around horses even longer. Crystal grew up riding for pleasure. Brent's family became involved in horses when his older brother moved to work on a racetrack, and his father bought a few broodmares.
After high school, Brent started working at Lasater Farm in Goshen, Kentucky. Crystal and Brent got married in 1975, and both worked in Indiana, but on a vacation to Florida in 1976, Brent was offered a job as a groom at Lasater's Florida farm. The couple went home, packed up, and moved two weeks later! While working at Lasater, the Fernungs met Peterson & Smith co-founder, Johnny Mac Smith. He was working for another practice, and did the veterinary work at Lasater. Brent became the broodmare manager, and eventually the farm manager in 1984 when Lasater was bought by Southland Farm; Dr. Smith continued working alongside him throughout the transitions. Meanwhile, Dr. Smith had become a solo practioner, and then recently started PSEH with Dr. Peterson. Brent remained farm manager until 1988 when Southland became Frank's Farm.
He had started working with some of his own horses under the Journeyman name for several years by then, and continued to do so after leaving Southland. In 1992, he bought a mare, Eileen's Moment- 60 days later, her 3 year old, Lil E.T., won the Kentucky Derby- this was a huge success for Crystal and Brent! They decided to continue buying and selling horses throughout the 90's as their own small operation. Crystal and Brent did almost all of the work themselves! In 2000, Brent accepted the farm manager position at Cloverleaf Farm. In 2001, he bought the mare, I'll Get Along, who eventually produced Smarty Jones. Brent sold I'll Get Along as agent for Cloverleaf in November of 2004 for five million dollars, making her the highest priced mare to sell in public auction that year. When Cloverleaf closed in 2007, there were several stallions left- Brent and Crystal were unsure of starting their own stallion operation with them, but having Wildcat Heir in the bunch sealed the deal. They've been growing their business and relationships with stallion owners ever since!
Crystal, who has helped the business along the way while also raising their daughter, Casey, became more involved once their daughter was in high school. She currently works alongside Brent as vice president, keeping the operation glued together! She also serves as the chair of the Equine Committee in the Ocala Marion County Chamber and Economic Partnership. Brent is an OBS board member, and vice president of the Florida Thoroughbred Breeders and Owners Association. The Fernungs have trusted Peterson & Smith with their horses since the beginning of our practice. They've also become deeply ingrained and successful in the equine community of Ocala, and we're very proud to work with them on a daily basis!
Learn more, and connect with Journeyman on their website, Facebook, and twitter!