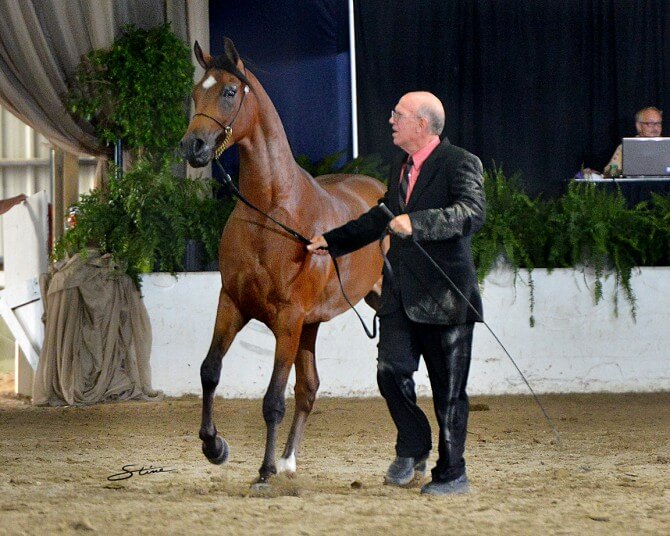 Ken & Mary Scribner, Ocala, FL.
Had it not been for horses, Ken and Mary Scribner may have never met. They grew up just miles apart, but it was local horse shows and events in 1973 in Iowa during their teen years when their paths crossed. Not many couples can say they fell in love on horseback.
Magnolia Farm Arabians was destined while Ken and Mary were dating. The couple decided to buy two Arabian stallions on a whim, sealing their fate. They gelded one and trained them both, beginning their successful breeding and training operation.
"We've just increased and improved our program," Mary said. "Then, we quit for a while."
That sabbatical from the horseshow world came in the mid 1990's, some years after they moved to Florida in 1987.
The couple, who married in 1977, kept a few horses for leisure riding, focused on achieving personal and professional goals, and starting a family. A few relocations and one daughter later, the Scribner's began building their new farm, Magnolia Farm Arabians in Ocala in 2001 when they found a friend of theirs was selling an Egyptian Arabian.
One horse lead to another and in no time, the couple was back in the horse show world, this time focusing on primarily straight Egyptian bred Arabians. Today, Magnolia Farm Arabians has 12 horses on the ground with mares in foal.
Their current stallion, Ali Rahaim, a straight Egyptian they bought in October 2013, has produced most of their sale horses in the past year. With careful selection, many of their broodmares come from the stallion, Padron. For showing, Ken kept a colt named Dartanian, which he rides for pleasure and competition in Arabian western pleasure and halter classes, and has earned upwards of $22,000.
Selling and showing has been a proven success, as well as, given them pride. They currently have two geldings they show in Arabians national competitions, mares for breeding, and an unruly colt they haven't decided should be gelded or sold as a young stud.
How many Arabian trainers and breeders can say they sell their American-bred foals back to Egyptian owners? Most notably is Imiela, a mare they sold as a filly from their 2005 foals, who won the Egyptian Nationals, two consecutive Junior Champion Filly titles in the European Egyptian Event for 2007-2008, a bronze medal for senior mare in the Elzahraa International in 2009, and reserve senior champion at the 2010 National Show in Egypt.
Ken typically does the training and preparation of the horses for shows. It's an in-house operation, they agreed. Besides competing against Ken in the Arabians show ring, Mary has begun competing in hunter jumper shows on her Arabian, Fanfare.
With any success, Magnolia Farm Arabians is always sure to contact the team that has helped them achieve it: the staff at Peterson and smith Equine Hospital. Since Ken and Mary began breeding and showing again, Peterson and Smith has been their veterinarian hospital of choice, using doctors Thacker, Rood, Clark, Hughes, Matthews and Cadena for everything from routine vaccinations to breeding to emergencies.
But it is with Dr. Adam Cayot they have built the closest partnership with.
"He's a pretty sharp boy," Ken said, mentioning the veterinarian's only down fall is being a Buckeyes fan. "We've actually built up a pretty close friendship over the years, Adam and I. (He's) pretty sharp with the stuff, (but) I'll always question him on stuff because I always question everybody, but he's pretty knowledgeable. We just like him."
Like any partnership, when there is a win, the Scribner's share the praise.
"It's a relationship between us and them, same with the farrier," Ken explained. "When we win at nationals, we get on the phone to call the farrier and Adam and say thank you. It's all part of the team."
Magnolia Farm Arabians is truly a family operation. Their daughter, Sydney, is at the barn for hours and has had a close relationship with the horses from the time she was a baby. Sydney, 16, has Cerabol Palsi, but the horses don't judge. They are kind, gentle and affectionate – something non-Arabian owners are always shocked by since they are known for their 'high temperament,' Ken explained.
"You have to see her with them, and them with her," Ken said. "It's been such a good relationship and for people to see her with horses like that as well. She's part of the horse show world."
Mary added, "With Arabians, so many people think they're so scary. Our horses are probably as gentle as any horse out there."
In ten years or so, or whenever the 20-year-old Rahaim is no longer there, the business end of Magnolia Farm Arabians will probably end, but horses will always be a part of their lives. Ken and Mary agreed it's not about the money, but the experience.
"We love them. For us, we wouldn't have horses if we didn't," Ken said.