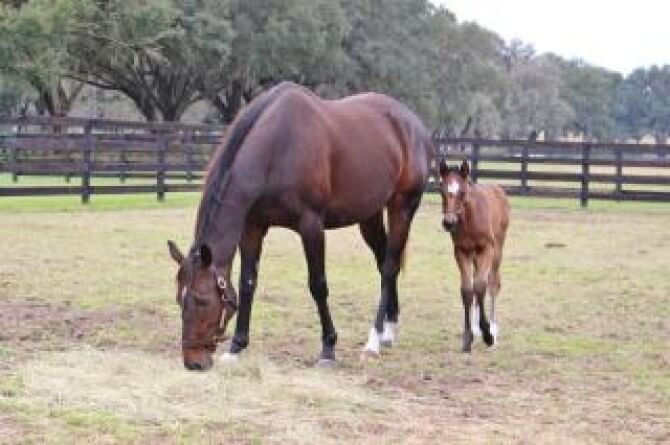 Marketing Mix has earned her place in Thoroughbred racing history and is a local equine celebrity. Residing at Glen Hill Farm in Ocala, the seven-year-old bay mare by Medaglia d'Oro has had an impressive career.
And in the sunny morning of January 19th she added an important title to her resume: Mother.
Bred to Tapit, Marketing Mix had a textbook foaling to a bay filly with a bold white star. She couldn't have been a better first-time broodmare said Karen Dreaver, farm manager.
The Canadian-bred mare earned more than $2-million on the track with several Graded Stakes wins. The owners of Glen Hill Farm are very pleased with the filly Marketing Mix and Tapit produced, Dreaver said.
The little filly is already showing spunk and personality to the staff. She's curious and playful, running around and tossing her head while Marketing Mix grazes nonchalantly. But let the little filly get too close to something her mother doesn't want her to and Marketing Mix quickly herds her to a safe distance.
According to Dreaver, Marketing Mix's personality hasn't changed much and has always had a calm and cool demeanor, even on racing days. She exudes confidence and grace, whether in a paddock or on the track.
Marketing Mix came in second at the 2012 Breeder's Cup Filly & Mare Turf (gr. IT) and Santa Anita's Rodeo Drive (gr. IT). She won seven graded stakes races among her 10 victories from 21 races overall. In 2013, she won the Gamely Stakes (gr. IT) at Betfair Hollywood Park before running fifth in the 2013 Filly & Mare Turf. Marketing Mix was trained by Tom Proctor.
Her retirement was announced Fall of 2013. The mare will live the rest of her life on the rolling green acres of Glen Hill Farm. Marketing Mix is now in foal to War Front.
Congratulations to Glen Hill Farm and to Marketing Mix on a successful racing career and what looks to be a successful broodmare career.