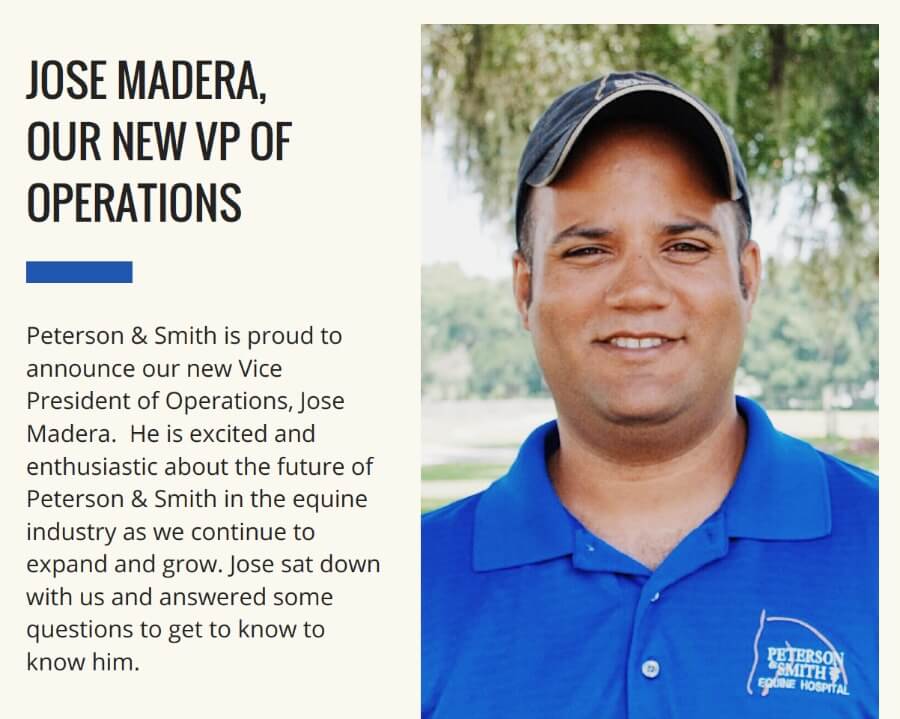 Q: Where did you grow up?
A: I was born in the Dominican Republic and lived there with my great grandparents until I was six. Once my mother established legal residency in the United States, my older sister and I joined her in Miami. Except for my time in the military, I have lived in Florida since.
Q: What do you enjoy in your spare time?
A: I enjoy to hunt, fish, travel, read, and learn. However, horsing around with my two boys is currently my favorite pastime.
Q: When did you first join Peterson & Smith and why?
A: I hate having to date myself, but the acquisition of information was much harder back then. All I knew about Peterson and Smith at the time was that Dr. Hahn worked there. However, that was enough. I felt that he carried himself in a way that no other equine professional I was previously exposed to did.
He took pride in his work, was always focused on the horse, was obviously good at his job, and seemed to thrive on being busy. I wanted to be a part of a place that fostered those qualities. The more I inquired about the practice, the more I would hear about its reputation as the biggest and best. Seeking an opportunity for employment at P&S soon became a no-brainer.
Prior to joining P &S I was starting two-year-olds for a local reining horse trainer and moonlighting as a college student. In the fall of 1999, I realized that life as a horse trainer was not going to be for me and this realization coincided with the news that the trainer I worked for would be relocating. I always had a strong interest in reproduction and the timing was right for the upcoming breeding season so I thought I would take a stab at making my way into that part of the industry.
So, I applied with dreams of being Dr. Hahn's assistant for the season. FORTUNATELY, by the time I applied the future Dr. Meeks had beat me to the Hahn position but I was offered the opportunity of working with Dr. Matthews instead.
In such a way, my career started at Peterson & Smith as an ambulatory rider in 1999. From there, I served as the reproduction technician and then manager of our Equine Reproduction Center.
Q: What do you think would really surprise people to learn about you?
A: That I'm a redneck at heart. Love to hunt, fish, and classic country music.
Q: The best business advice you ever received is….
A: "Never chase an empty wagon". Which I interpret to mean that you surround yourself with people who have something positive to offer.