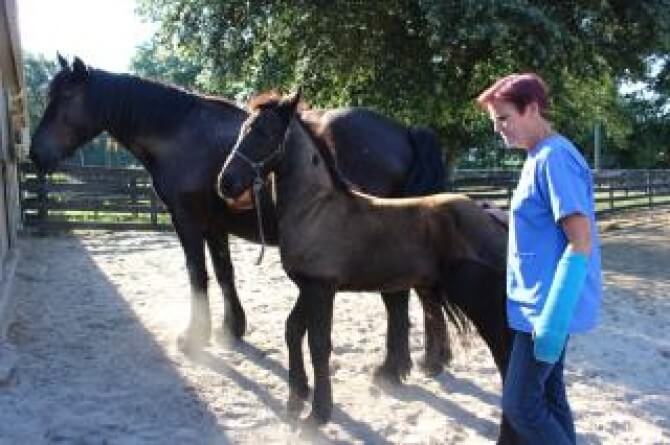 It's pretty easy to get the baby bug as a Peterson and Smith Equine Hospital employee. Breeding season after breeding season, foals come in and it's hard not to want one of your own. Michelle Mautone may have it harder working in the medical barn where she is a dedicated part of the healing process for the foal patients.
In March, she finally had one of her own. Xander was born from a successful embryo transfer with the help of many PSEH co-workers.
About two years ago, Michelle purchased Bahret Fan Bluffview, a Friesian stallion from Bluffview farm and client of PSEH. She thought he would make a great addition to Zena Fan Bluffview, the mare she had purchased in 2007 as a six-month-old foal.
Knowing Bahret was in his mid-teens, she started thinking of breeding the two. Luckily, Nina Smith, a fellow technician, had the perfect recipient mare for Michelle, a Percheron named Pi. It was an ideal fit since Pi was a draft breed big enough to carry a draft foal.
"This mare loves to be pregnant," Michelle said of Pi's temperament.
Bahret and Zena traveled to the Equine Reproduction Center where he was collected by Jose Madera and Zena was monitored for insemination by Dr. Philip Matthews. There was a hiccup when Zena and Pi didn't sync up in their ovulation cycles.
Bahret was collected again and this time, it was a successful impregnation and transfer. Michelle said it was like Pi read the text book for mare pregnancy. Dr. Jen Madera was the veterinarian who did regular check-ups on Pi and the foal during the pregnancy.
Although working at the hospital had its advantages, it was also bittersweet seeing the many difficulties and things that can go wrong.
"I was worried sick," she said.
It wasn't Michelle's first foal. She has several miniature horses she has bred and sold over the years. But Xander was special because she didn't have plans of selling him. And a colt was just what she wanted.
Bahret and Zena are so compatible in confirmation and personality; Michelle is very pleased with how Xander is turning out. He's playful, leggy and smart. So, as soon as Pi was ready, Michelle sent her and Zena back to the Equine Reproduction Center for another embryo transfer.
This time next year, Michelle will have a new foal to play with on her farm, Harley's Hollow. If it's a filly, she said she will be on the fence about selling it. But if it's a colt, she already has interested buyers.
It was a group effort with the Peterson and Smith crew bringing Xander into the world, but that's nothing new for Michelle. If it's a long day or has been a tough week, she brings her miniature horses in to cheer everyone up. Recently, a week-old palomino filly named Elsa was the latest addition to her mixed herd. Michelle volunteers her minis for the neonatal wetlabs during the practicum.
She also has a barn cat, a chicken, a few ducks and two large dogs.