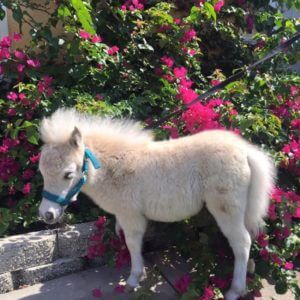 A white and fluffy "little bundle of joy" comes to mind when people meet the sweet 10 month old miniature horse named Pegasus. You might find him frolicking outside in his pastures, hanging out with his favorite humans, doing meet and greets at public places, and sometimes playing as a dog with his Golden Retriever friends at Dreamcatcher Horse Ranch and Rescue Center.
This little mini was given a second chance when he was rescued from a kill pen at just 2 weeks old after his mom had passed away during his birth. Alison Wheatley, CEO and Founder of Dreamcatcher Horse Ranch, still remembers that night they picked him up; "We brought him inside the truck with us and had a long ride home of 4.5 hours." Much attention and love was poured into his life as he was taken care of and bottle fed every few hours, with his new parents ready to give little Pegasus a new chance at  life.
Pegasus is known and loved by many in the community due to his days spent at schools, public places, and events where he helps Dreamcatcher Horse Ranch share the cause of the Horse Rescue and fundraise. He is also a popular visitor at nursing and long term homes bringing smiles and laughs wherever he goes.
Around Christmas time, Pegasus began to show signs of distress and became lethargic, bloated, and was thought to have an impacted colic. After a series of decisions made by Alison and the family, Pegasus was brought to Peterson & Smith where he underwent colic surgery. Over the next 8 days, that Pegasus would stay at Peterson & Smith until his numbers stabilized and underwent recovery. With small steps, but a lot of love for Pegasus, he was able to grow stronger each day and soon go home.
Dreamcatcher Horse Ranch and Rescue Center is a non-profit registered 501 (c) 3 horse rescue and certified sanctuary that offers many activities to the public as well. From trail rides, lessons, boarding, and more, Dreamcatcher Horse Ranch is thankful for the support and donations to keep them running their mission.
Today, Pegasus is doing well and recovering quickly. He is under close watch of his owners and family on the ranch. Check out Pegasus's GoFundMe page and join together with the community that has been helping donate towards medical costs. And if you want to keep up with little Pegasus be sure to check out and like his Facebook Page that is sure to make you smile!