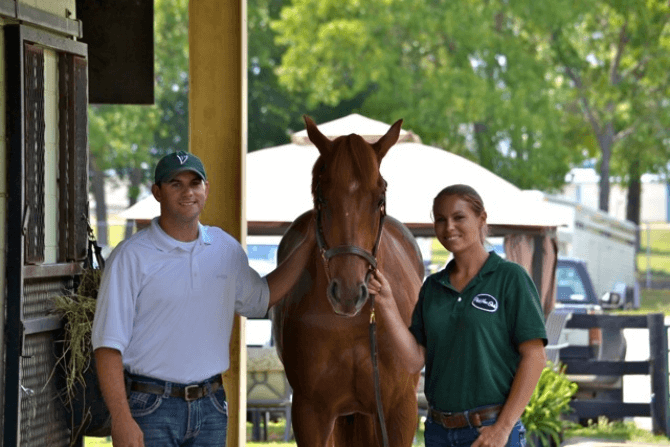 Pick View, LLC in Ocala should have a lot of struggles against them. Owned by a young couple in business for merely four years and combining opposing industries, Thoroughbred racing and Western barrel racing, and it all being ran by only three people, the odds are stacked. Owners Joe Pickerell and Courtney Roberts, however, are showing the odds are in their favor.
Sales graduates, like Comandante and Doctor Dempsey, currently on the race track earning six-figures and JSYK Im Famous winning the Congress and qualifying for the American, the richest one day rodeo in the United States, as well as having a full barn of returning clients for services ranging from training and sales, to broodmares, to layups, are Pick View's proof that hard work and personal dedication pays off.
Joe and Courtney, with Marc Ford, 22, Joe's childhood friend from Ohio who moved to Ocala in June to work with the couple, agree that it's their hands-on approach to everything that sets them apart.
"Horses have to be taken cared of every single day," Courtney explains. "We work all day long, every single day, but reality is we wouldn't change it for the world. We love what we do. We're young and we're growing."
Joe and Courtney met while attending College of Central Florida's equine business management program. Joe, 30, grew up riding western while his family worked in Thoroughbreds in Ohio. He traveled to Ocala in 2006, worked for several local Thoroughbred operations and began Pick View Transport before graduating from CF in 2010.
Courtney, 24, grew up in south Florida in the hunter jumper world, until she converted to barrel racing about 10 years ago. It was only during her time in the equine program and her relationship with Joe that she learned about the racing industry, Courtney said.
Two years after getting Pick View up and running, they bought the 20-acre, two-barn property. A lot of elbow grease went into making it the homey, yet full-functioning operation it is now, since they bought it as a foreclosure. It now has foaling stalls, a lighted arena, green pastures, a freestyle horse exerciser, a round pen, and a built-on apartment just perfect for the couple with their two dogs, Khaya and Molly, and pet pig, 'should have been a micro-mini' Wilbur.
Not only is the couple personally compatible, but also in their work ethic and mission for Pick View.
"My opinion is, both the western and the English horses, we are all big believers in getting a really good foundation in them. We don't just break our horses and go right onto barrels or break the thoroughbreds and go right onto the track," Courtney explained. "We spend a lot of time with them in the field and doing different things and getting them really, really broke, because we're big believers in having a good foundation starts the whole career of the horse. We're never rushing our horses to get to a final destination."
They have their differences, though. Courtney tends to be more protective of the horses, where Joe is more aggressive with sales. Both agree it's about putting a high quality product on the market to gain returning customers, while staying at a manageable number not wanting to get too large.
Together, Joe and Courtney have the like-mindedness and professional goals that could be expected from of those twice their ages and in business for decades. Paired with Marc, who gained experience as a thoroughbred groom and a similar upbringing to Joe's thanks to a family involved in horse business, Pick View seems to have an unbeatable team.
"It's great; they treat me just like family," Marc complimented. "I couldn't ask for anything more. We all have the same outlook; we know where we want it to go."
Joe added, "We all have the same goals in mind: safety and well-being of the horses and letting them be all they can."
Add Dr. Ray Rood in the mix, and the team at Pick View thinks they have a winning combination.
Joe had experience working with Dr. Rood from his time at another local thoroughbred operation while in college. It only made sense to have the veterinarian and Peterson and Smith provide veterinary care for their business, Joe and Courtney agreed. They have used PSEH for lay-up surgeries, exams, and recently, breeding services.
"We find Dr. Rood really, really easy to get along with. You can ask him any kind of question and not feel guilty for asking it. He's just so open and he's an absolute teacher," Courtney bragged.
Marc added, "He wants to help you."
"We have learned so much from Dr. Rood just taking his time with us," Courtney continued. "We've always joked about if I was on the road with my good horse JR (JSYK Im Famous) and something happens, he's going to have to wait 'til we get back home for Dr. Rood to look at him because I don't want anybody else looking at him."
Obvious growth, continued successful relationships with clients and producing quality horses are in the future plans for Pick View. In February, Courtney will ride JR in the semi-finals of The American. They have a few thoroughbreds and quarter horses due to foal in 2015, as well.
Collective perspectives, varied experiences and sharing a core value have worked well for the team in such a short time. The hard work, long hours, personal risk of there being no guarantees in the horse industry, and combining their passions to create one business is all worth it in the end, Joe, Courtney and Marc agreed.
"It's being able to do what we love," Courtney said.
We wish the greatest success to Joe, Courtney and Marc for Pick View, LLC. Peterson and Smith values their years of loyalty and look forward to being a part of their continued accomplishments.
JR won the Junior Barrels at Congress as a 5-year-old in October 2013. In October 2014, he won the Final Go-Round in the Congress Sweepstakes and set the new arena record. Courtney and JR have won a Go-Round two years in a row at the Florida National Barrel Horse Association State Finals show which held over 900 entries. In March, Courtney and JR will be on RFD-TV for the America.
Comandante was broke, trained and sold by Pick View in 2012 at the April OBS sale for $35,000. The Frost Giant colt has earned more than $300,000 on the track. Doctor Dempsey also is a graduate from Pick View's first year in operation and sold at the April OBS sale for $220,000, and is currently 2 for 2 in his races in California.
Photos courtesy of Pick View, LLC.