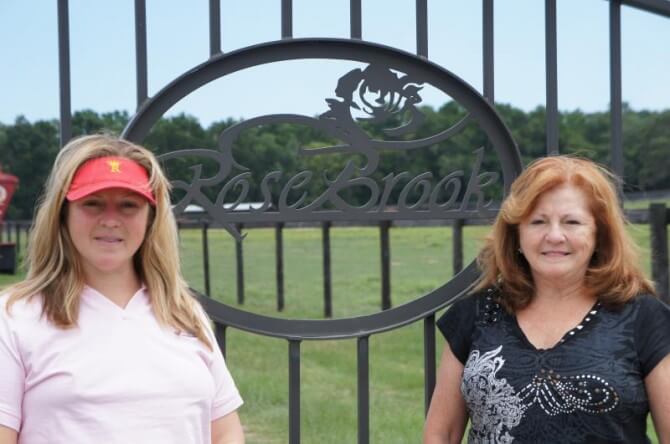 Over 20 years ago, Dianne Waldron never imagined her new 6 and a half acre home with 3 horses turning into a 170 acre farm with an average of 80-90 horses living there at a time! However, Dianne can't complain, she's been absolutely horse crazy her entire life.
Born and raised in Brooksville, Florida, Dianne had never been around horses, but she had an unexplainable love for them. She was interested in all thing horses, and after saving up money and begging her dad for years, he finally caved! When she was eight years old, they bought a back yard mare, a rusty bit and bridle, and a saddle that was falling apart for 50 dollars. With no lessons or real horse experience, Dianne and her father taught themselves all about riding and horses. Dianne fell in love with Arabians when she saw two Mountain Park stallions in full costume during a parade in downtown Brooksville. After some convincing, her dad agreed to let her visit the Arabians. She ended up breeding her mare twice- once to each stallion, and learned how to raise a foal when she was only about 11.
Eventually, Dianne's three daughters grew up riding as well; however, Leah, who now is Dianne's right hand at Rosebrook Farm was always the most 'horse crazy." She rode in her first competitive endurance event at the age of 7, doing a 35 mile ride!
Dianne became a successful and self-taught endurance and competition rider. After about 12 years of endurance, she heard parimutuel Arabian racing was coming to Florida. On a whim, she went to a seminar at Tampa Bay Downs, and became a licensed trainer the next week. She ended up being the first trainer to win a parimutuel Arabian race in the state of Florida! Dianne officially caught the racing bug, and began training several of her endurance horses to race. Throughout the years, this expanded into Rosebrook Farms, where she breeds, sells, and trains hundreds of horses!
Mementos from years of awards decorate the home at their farm, and tell the stories of countless accomplishments. Some of the most notable include:
20 Darley Awards
5 time winners of the $100,000 Drinkers of the Wind Stake
3 time winners of the Florida 100
Breeder of the winner of Dubai's Kahayla Classic
Winner of the Arabian Triple Crown
Outside of Arabians, Rosebrook has seen success with a Thoroughbred they trained, Personal First, who won the Amsterdam graded stakes at Saratoga with Pat Day. Also, one of their racing Arabians, Oration, had such a unique temperament that they trained him as a sport horse. With less than 4 months of showing, Oration won Reserve Supreme Champion at his first National championship show, and has gone on to set the record for winning the most Championships at one show and Supreme National Sport Horse Champion.
Peterson &Smith has been happy to work with Dianne and Leah at our Equine Reproduction Center over the years. Dianne had always known that Peterson & Smith was a highly regarded hospital, so when they opened the ERC, it seemed like a no brainer to start breeding with them. She says her countless champions are living proof of the benefits and success that come from embryo transfer and recipient mare breeding. Also, working with the ERC has given her horses the opportunity to breed to the best blood lines the world has to offer!
Learn more about Rosebrook Farm on their website, and facebook page!