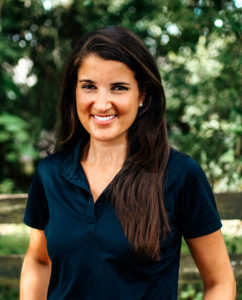 Dr. Hanafi graduated from the University of Georgia with her Bachelor's in Psychology, Master's in Animal and Dairy Science, and Doctorate of Veterinary Medicine. While she was there, she rode on UGA's NCAA Equestrian Team who won three national championships during that time.

Growing up riding horses and working in the teaching hospital in college went hand in hand in influencing her desire to pursue equine vet medicine. After spending last year in Lexington, KY with Rood & Riddle, not only did she become a fledging horseracing fan but she became inspired to pursue equine surgery.

Dr. Hanafi does not have any pets at the moment, but she's holding out for an off-the-track thoroughbred to retrain for the hunter ring. In her spare time, she likes to run, lift weights, watch college sports (Go Dawgs!), garden, bake, and spend time outdoors.