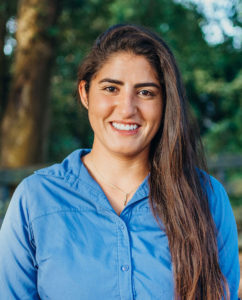 Dr. Angelica Velez Rodriguez graduated as a Doctor of Veterinary Medicine from La Salle University in Colombia. Inspired by her childhood interest for helping animals, during her studies she helped many stray dogs and cats by sterilizing and preparing them to find new loving homes. At La Salle, Dr. Velez also discovered her passion for large animal reproduction- specifically equine embryo transfer.
Upon graduation she started her own business providing ambulatory veterinary services across Colombia. However, when she received the unique opportunity to join Peterson and Smith as the ERC intern, she seized it and moved to Florida.
Dr. Velez comes from the Pacific and Caribbean culture, and has the rhythm in her blood. She will dance to any beat. During her free time, Dr. Velez loves to travel to get to know new cultures, religions, and languages, and has been to more than 20 countries. She also enjoys playing sports like soccer, tennis, boxing, surfing, among others, but her passion is kite surfing. Through kite surfing she has been able to combine the sport with traveling as she often goes to events around the world.