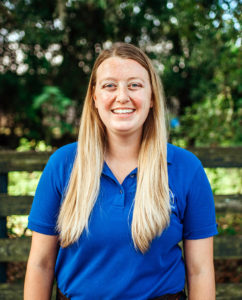 Dr. Kaylyn Andrews is from Lawrenceville, Georgia.
She earned her bachelor's degrees in Animal and Dairy Science with a minor in Agribusiness and Management at the University of Georgia. She then returned to UGA to earn her Doctorate of Veterinary Medicine. Through veterinary school, she worked nights as a student technician in the large animal hospital, in addition to tutoring anatomy. Dr. Andrews has traveled to Costa Rica, Nicaragua, India, and Belgium to experience veterinary medicine around the world. Her professional interest includes internal medicine and reproduction.
She has a lab mix named Hershey and a diabetic cat named Socks. In her spare time, she enjoys traveling, kickboxing, hiking with her dog, and in the fall, watching UGA football!