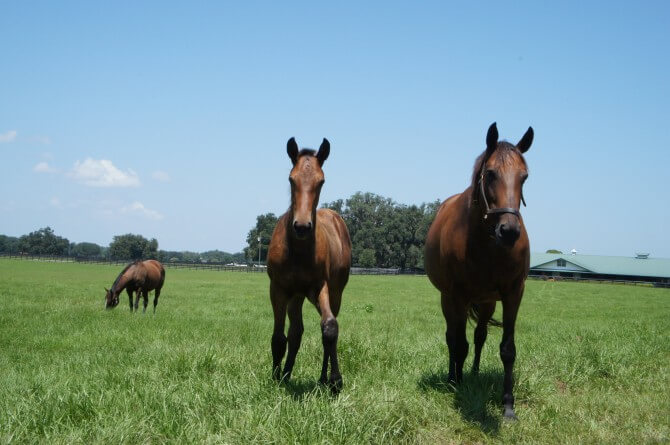 A picturesque landscape rolling across approximately 500 acres of lush green pasture, Stonehedge Farm South is something to marvel. Not only is the property inspiring, but the owner's desire to maintain Florida-bred tradition is as deeply rooted in this property as the Oak trees.
Gilbert and Marilyn Campbell of Massachusetts purchased Waldemar Farm when it was a 250-acres thoroughbred operation in 1988, and renamed it Stonehedge Farm South.
The name and ownership may have been changed and the property expanded, but true thoroughbred racing tradition remains the same. They uphold the Florida legacy of breeding and foaling on the property, continue the long standing client status with Peterson and Smith Equine Hospital, and kept Larry King, a man with a wealth of hard-earned life experience in the thoroughbred industry, as their farm manager.
King practically grew up on the land while his father was the manager when it was Waldemar Farm. He has 41-years of first-hand experience in the farm's evolution of success and growth.
"We've had a lot of success here, so we aren't going to change much," King said.
Stonehedge Farm South is dedicated to the horse, he credited. King and Campbell believe in horses being horses. Training is a slow process and life is set at a leisure pace for these thoroughbreds. For the 180-head of horses, each is ensured a stall of their own and ample grazing. Breeding, foaling, selling, training, and rehabbing are all inside jobs, King explained.
The two stallions on the property, Factum, half-brother to War Front, and Revolving, a winning son of A.P. Indy, are pampered with their own individual block barns and attached paddocks.
And when it comes to Stonehedge's breeding procedures, Peterson and Smith plays an important role, King acknowledged. Campbell and King take no chances and waste little time getting at-risk foals or mares to the hospital when needed. The farm began their veterinary care with Dr. Peterson, and are now Dr. Hahn's client.
Between 60 and 80 mares are bred a year, so babies are in abundance. Campbell is an owner that likes to be active and present for breeding and foal selections, King said. When the owners are on the property, it is not uncommon to see them traveling the grounds, stopping to admire their view and pet the horses.
King and the grooms work hard to see that every horse is handled regularly and friendly. When they walk into a sale, they want their prospects to stand out in personality and character, he said.
"These guys I've got do such a good job," King said, giving a great deal of credit to his staff.
In the occurrence that a horse should need rehabilitation or conditioning, it is done at the same leisure pace as the rest of the farm. Stonehedge is equipped with a swimming pool, which King says allows the horses to get the exercise they need, but not jeopardize their recovery.
When it is time to train, there is a dirt track and gate, but the track has no rail. This allows for the rider to really ride the horse, instead of letting the rail guide them, he said.
King considers his job a blessing and has an obvious appreciation for his work, the staff, and the Campbells. The racing industry is home for him. There isn't a part of the business he doesn't appreciate.
"Most everything is hard work," he said. "If you didn't care about that, it'd probably be a boring job."
King isn't the type of man to sing false praises, so when he credits the Campbells for being a driving force behind the company moral and attitude, it's true.
"I think it's important that he cares. If he didn't care, it'd probably rub off on me and everyone. Him and Mrs. Campbell both, it's a very important business and part of their life, so it makes us all work harder," King said. "He's good to us. I've messed up good enough I could have been fired by someone else, but he's that kind of person. I ain't saying he ain't tough, he's the owner, but he does care about the people that work for him and he's very, very fair."
Perhaps, these are the qualities that have honored Campbell with Florida Thoroughbred Breeders' and Owners Association breeder of the year awards and recognition multiple times. Although Campbell isn't a Florida native, King said his boss is dedicated to keeping the Florida traditions intact.
"(It's) just the success of taking a business and keeping it up in the top," King said. "It's pretty gratifying; you're not just doing it, you're doing it successfully. It's important to do (well)."
We appreciate the long-lasting loyalty and trust those at Stonehedge Farm instill in Peterson and Smith Equine Hospital. We look forward to many years to come and wish the company years of future success.