Written by Dr. Jordan Lopez
2021-2022 Peterson Smith Equine Hospital + Complete Care Ambulatory Intern
The Sunshine State
Florida is ranked as the third largest equine state in the country. With a climate that supports year-round activities, the state is home to many nationally-recognized equine events and facilities. While the sunshine state does draw many equestrians, it presents its own unique challenges to the equine species. These challenges will be outlined below, along with strategies to combat and avoid them.
Insects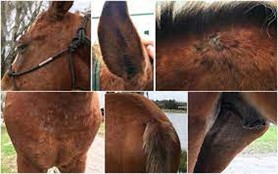 Florida's heat and humidity create the perfect environment for insects to thrive in. Besides being a nuisance, insects can cause more significant issues for horses. Insect hypersensitivity is an allergic response to the bite of mosquitoes, flies and "no-see-ums". Very itchy lesions and hair loss will typically be noted around the tail base, belly, mane and face. Flies also act as vector for the parasites that cause summer sores. Summer sores can occur anywhere there is a break in the skin or where moisture accumulates. They are often seen at the corners of the eyes, corner of the lips and distal limbs. These lesions will often have yellow or white granules present within them.
What should you do:
Use appropriate insect repellants/fly sprays daily. A 1% permethrin spray is recommended.
Administer appropriate deworming as recommended by your veterinarian. Ivermectin products will be most effective against summer sores.
Keep a fly mask on horses during turn out.
Avoid free standing water and excess manure build up.
Fans and fly/mosquito traps can be used to reduce insects in the environment.
If lesions consistent with insect hypersensitivity or summer sores are noted, please contact your veterinarian for further assistance.
Sand
Florida soil contains a high proportion of sand. Ingestion of sand can occur accidentally and ingestion is increased when pastures are over grazed. Over time, consumption of sand can lead to an accumulation within the gastrointestinal tracts. Sand accumulation can lead to irritation of the intestinal mucosa and eventually blockage.
What should you do:
Feed horses off the ground with tubs or feeders. Also place mats under feeders to avoid dropped feed on sandy soil.
Feed a diet with appropriate amount of hay and fiber to promote sand passage.
Avoid over grazed pastures.
Administer Psyllium or Psyllium products. An average 1000lb horse should receive 1 cup of psyllium over the feed once daily for 7 consecutive days each month.
If signs of colic (decreased appetite, increased heart rate, pawing, rolling, etc.) are noted, please contact your veterinarian for further assistance.
Heat Stress
Heat stress can occur even in healthy horses if the temperature and humidity combined are greater than 180. Florida climate allows this to happen on a regular basis in summer months. Factors that increase the risk of heat stress include poor conditioning, heavy exercise, anhidrosis and dehydration. It is also important to note that horse recently moved to Florida will require time to adapt to the temperature. Heat stress is covered in more detail in our May Vet Notes.
What should you do:
Assure that paddocks have adequate shade and access to fresh water.
Turn horses out during low heat hours such as early morning and late afternoon.
Avoid working horses when temperature are greater than 90 degrees Fahrenheit.
If signs of heat stress (Increased respiratory rate, Lethargy, Decreased appetite, Shade seeking) are noted, contact your veterinarian for further assistance.
Resources
Divers, T.J. Orsini, J.A. (2014) 'Equine Emergencies Treatment and Protocols Fourth Edition' ElsevierMarsella, R., Brooks, S., Wickens, C., & Craig, N. (2022). Insect bite hypersensitivity in horses – University of Florida. Retrieved May 11, 2022, from https://edis.ifas.ufl.edu/pdf/AN/AN35900.pdf
Rendle, D. (2014). Managing insect bite hypersensitivity in horses. Livestock, 19(5), 304–308. https://doi.org/10.12968/live.2014.19.5.304
Summer sores. AAEP. (n.d.). Retrieved May 11, 2022, from https://aaep.org/horsehealth/summer-sores
Walesby, H.A., Blackmer, J.M., & Berthelot, A. (2004, September). Equine Sand Colic. Vet Folio Compendium. Retrieved From http://www.vetfolio.com/internalmedicine/equine-sand-colic This peer reviewed article has excellent information and pictures about clinical signs, diagnosis, surgery, and prevention related to sand colic.