Biological Therapies- PRP, IRAP, Pro-Stride, A2M
written by: Dr. Sharnai Thompson
2021-2022 PSEH Ambulatory Intern
What are blood-derived regenerative/adjunctive/biologic therapies?
These terms are often used interchangeably (whether appropriate or not) to generally describe using a component of the body that is naturally present and multiplying or amplifying so that it can be used to promote proper healing or modulate the inflammatory reaction.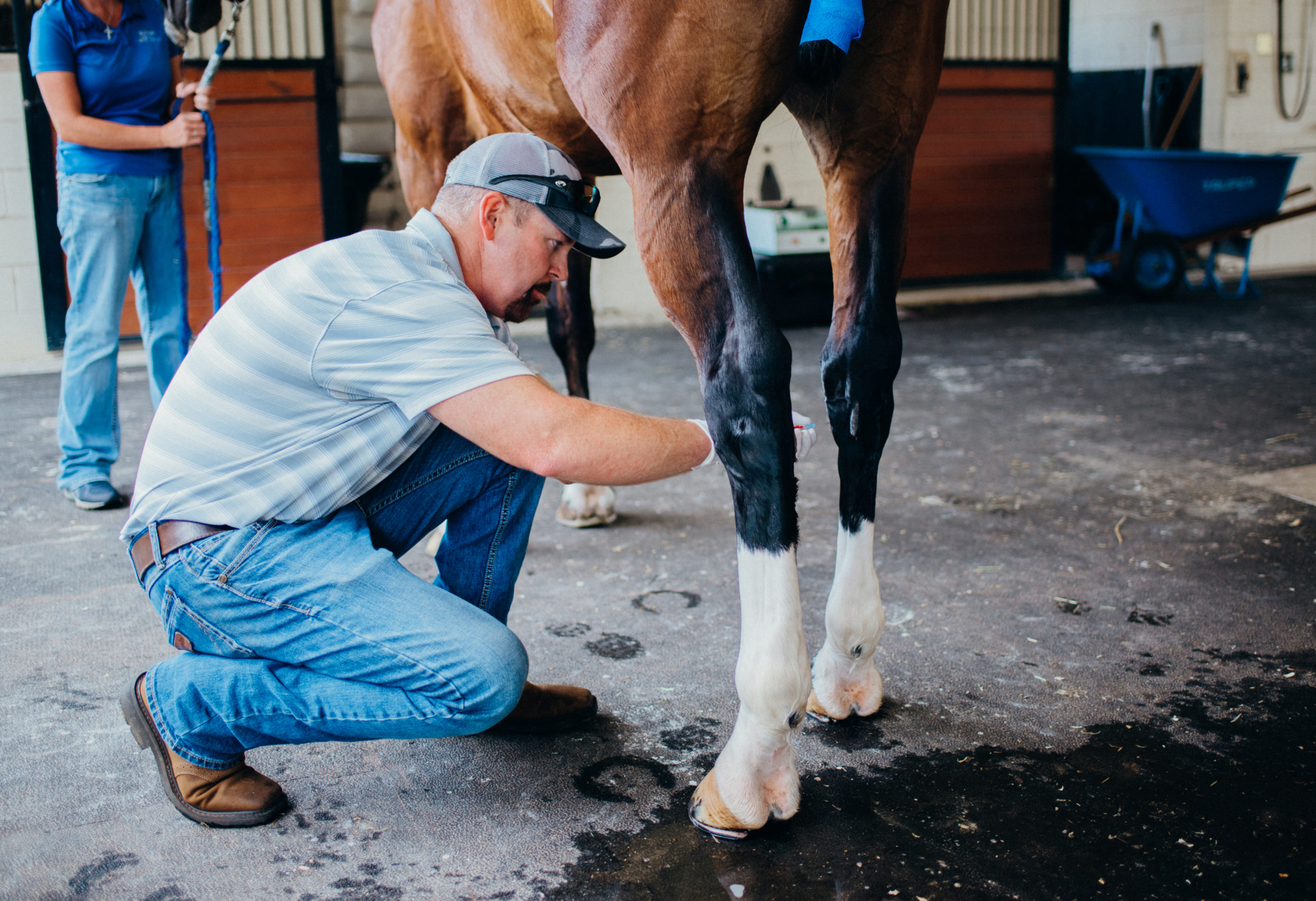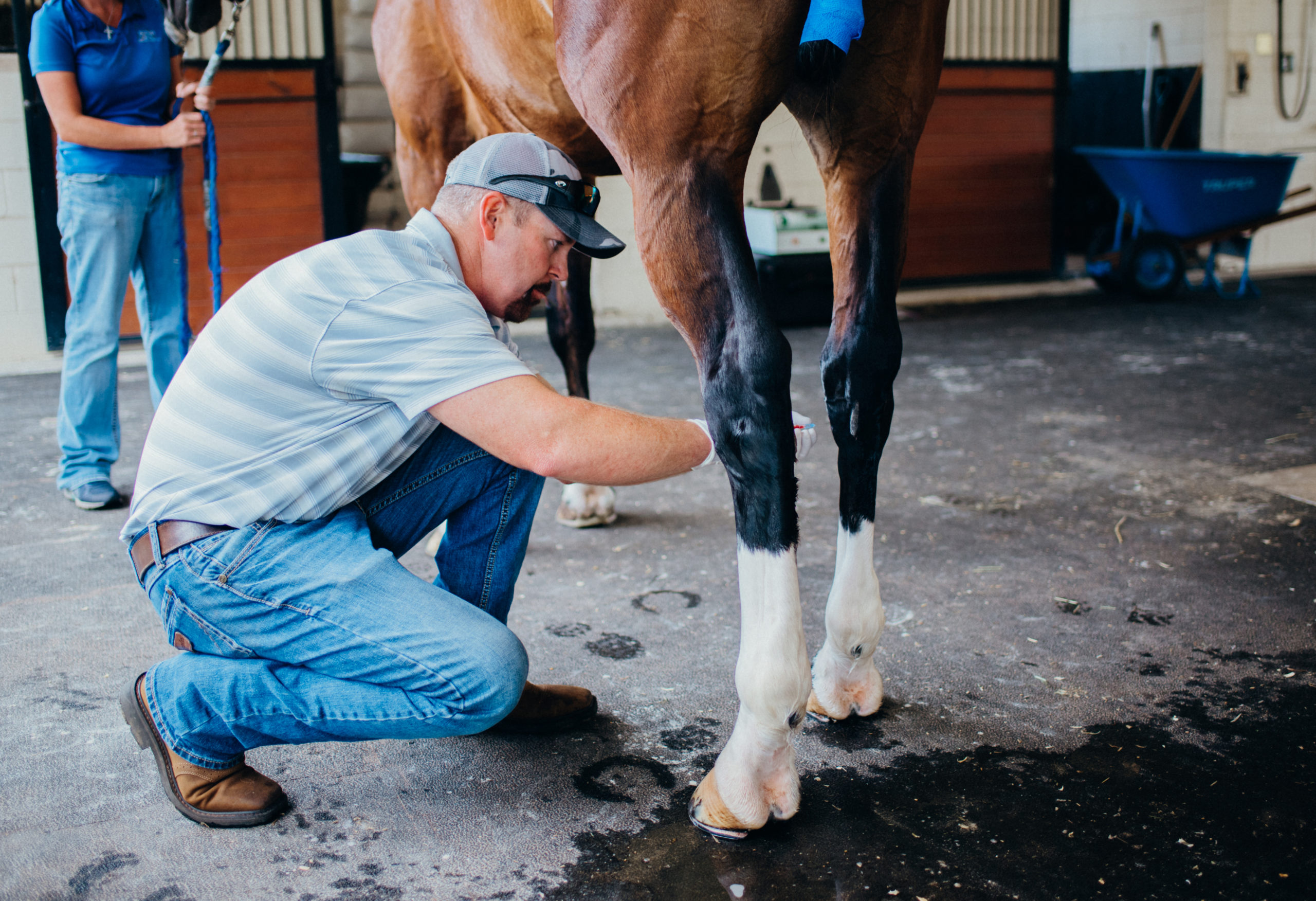 These therapies can be used in a multitude of different ways to treat many different conditions, but this article is going to focus specifically on how these treatment options are used to treat lameness and injuries that are most common in equine athletes.  Furthermore, stem cell therapy is another large component of the regenerative therapy space but this information is going to focus on the new technology surrounding blood-derived products.
What are the current options?
For a while, Platelet Rich Plasma (PRP), which after centrifugation of the patient's blood is the plasma portion which has a concentration of increased platelets that produce growth factors, was really the only option for blood-derived therapies.  It is still commonly used and there are a variety of manufacturers that offer stall side machines to process PRP.  Currently, there are even options for customizable PRP with higher leukocyte concentrations to enhance the anti-inflammatory effect, absent of leukocytes that may have a negative effect on healing, or even adding grafted bone to be injected into orthopedic surgical sites.
However, in the 1980s the Autologous Conditioned Serum (ACS) process was discovered to produce IRAP (Interleukin Receptor Antagonist Protein) which lowered inflammatory cytokines in human leukemia patients.  The added benefit of ACS/IRAP was that it not only increased growth factors, like PRP, by taking the additional steps of incubating with glass beads before centrifugation, it would also counteract the inflammatory protein IL-1 which causes inflammation and can impede healing.


From there, the process of developing an Autologous Protein Solution (APS) commonly known as ProStride.  Essentially, APS is a combination of the beneficial effects of ACS and PRP to produce a product that has both increased platelets, and ultimately growth factors (although not as high as pure PRP), as well as an increase in anti-inflammatory cytokines targeting primarily IL-1.  ProStride requires no incubation time and can now be done stall-side.

Perhaps the newest spin-off (no pun intended) from PRP is the process to produce Autologous Conditioned Plasma (ACP). Basically, the ACP process has an additional ultra-filtration step in addition to the centrifugation to filter out exactly what proteins are desired, and leave out all the blood products that are not useful in the healing/anti-inflammatory process.  One promising result of this process is Alpha-2 EQ (A2M).
A2M concentrates a macroglobulin that acts as a protease inhibitor to counteract the enzymes that cause cartilage degradation in addition to downregulating inflammatory cytokines (IL-1).  It has been shown to be a potent anti-inflammatory whose effects may have only been seen with corticosteroids in the past, but without the adverse effects on regeneration.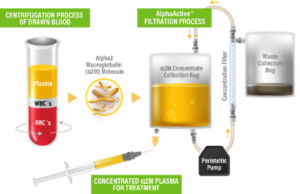 What do they treat?
Horses have many different jobs across the equestrian spectrum but one commonality for equine athletes and their owners
is dealing with lameness, whether due to injury or "wear and tear" as it is commonly referred to, it plagues us all.  For simplicity's sake, common issues that are seen can be largely grouped into soft tissue or joint pathology, which is where the therapies being discussed here are most often used.
Common problems with soft tissue are seen in the flexor tendons of the front limbs and the suspensory apparatus of front or hindlimbs.  These injuries vary in severity but it's important to note that these injuries take TIME, no matter how aggressive the treatment options – therapies directed at soft tissue injury do not speed up healing, they promote BETTER healing to increase chances for returning to full function and reducing chances for re-injury (which increases time off).  The therapies that have high regenerative potential really come into play here (PRP, Stem Cell, etc) to essentially lay a better framework and aggregate the right cell types to heal as close to the original tissue components as possible and reduce fibrosis/scar tissue.
Many equine veterinarians will say that no matter what type of athlete the horses is, it has some degree of osteoarthritis (OA) or Degenerative Joint Disease (DJD) somewhere.  Intraarticular therapies have historically consisted of corticosteroids and hyaluronic acid and treatment is often rapid and successful, however, there may be long term consequences of continued use of steroids both intra-articularly and systemically.  Steroids can offer relief but they also inhibit the healing process and can also damage synovial structures.  The aim of these new therapies is to provide a similar anti-inflammatory effect without interfering as much in the natural processes of the body.
Which one to choose?
Big words, complicated processes, high cost – it can all seem a little overwhelming for horse owners that just want to do the right thing for their horse(s).  Below are some considerations to keep in mind when treating horses with biologic therapies and trying to decide which option may provide the best outcome for everyone.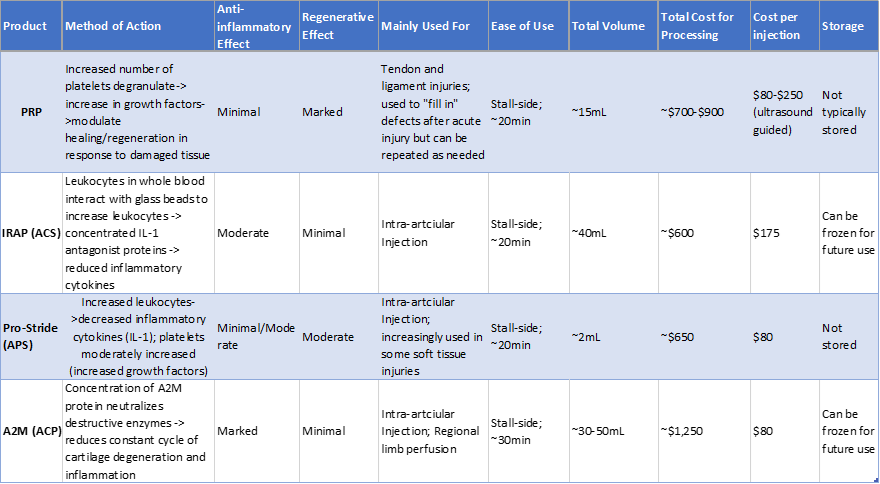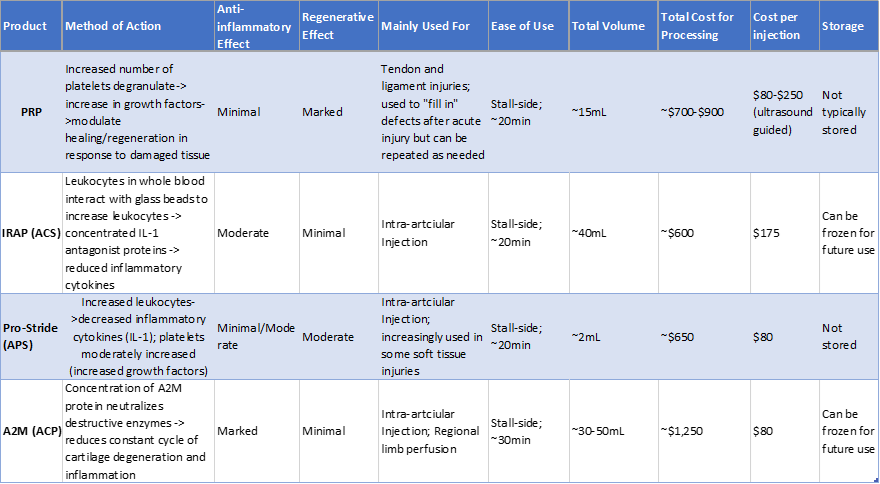 References
(2021). Alpha2EQ. https://alpha2eq.com/
(2021). Arthrex. https://arthrexvet.com
Bogers, S. H. (2018). Cell-Based Therapies for Joint Disease in Veterinary Medicine: What We Have Learned and What We Need to Know. Frontiers in Veterinary Science, 5. https://doi.org/10.3389/fvets.2018.00070
Broeckx, S., Zimmerman, M., Crocetti, S., Suls, M., Mariën, T., Ferguson, S. J., Chiers, K., Duchateau, L., Franco-Obregón, A., Wuertz, K., & Spaas, J. H. (2014). Regenerative Therapies for Equine Degenerative Joint Disease: A Preliminary Study. PLoS ONE, 9(1), e85917. https://doi.org/10.1371/journal.pone.0085917
Lesté-Lasserre, C., MA. (2021, May 26). Non-Steroidal Joint Injections Gaining in Popularity. The Horse. https://thehorse.com/1100173/non-steroidal-joint-injections-gaining-in-popularity/
Oke, S. D. (2021, May 5). Regenerative Therapies: Helping Horses Self-Heal. The Horse. https://thehorse.com/189061/regenerative-therapies-helping-horses-self-heal/
Velloso Alvarez, A., Boone, L. H., Braim, A. P., Taintor, J. S., Caldwell, F., Wright, J. C., & Wooldridge, A. A. (2020). A Survey of Clinical Usage of Non-steroidal Intra-Articular Therapeutics by Equine Practitioners. Frontiers in Veterinary Science, 7. https://doi.org/10.3389/fvets.2020.579967