Peterson Smith Equine Hospital + Complete Care sees countless foals each year between our hospital, Advanced Fertility Center and ambulatory department. While many of the foals are near and dear to our hearts, one stood out this year for a large reason. Earrisistible, or "Rhiana" in the barn, is a stunning Mammoth Jack donkey/KWPN bred and owned by Ally Rogers of ALR Dressage in Ocala, Florida. The sweet mule was born in March 2022 and was named after our own Dr. Rhiana Ryan who oversaw the pregnancy.
Ally is a long-time dressage trainer. She graduated from an equine technical college in Virginia, then worked for Olympic medalist Steffen Peters for more than 12 years – first as his working student and groom, then as his assistant trainer and barn manager. Eventually Ally left to run her own business. "I've been fortunate to have amazing clients and horses over the years, and have earned all my USDF level medals," says Ally.
"I actually saw my first 'dressage mule' in person at the USDF Nationals Finals in Lexington, Kentucky several years ago. I've always been drawn to long ears- no clue why – but this was just too cute. I did research and found that there have been a few successful dressage mules in the past. I connected and talked to others for years who had 'performance mules,' and the one thing every single person reiterated was for a purpose-bred mule, you have to have an exceptional mare bred for that discipline," explains Ally.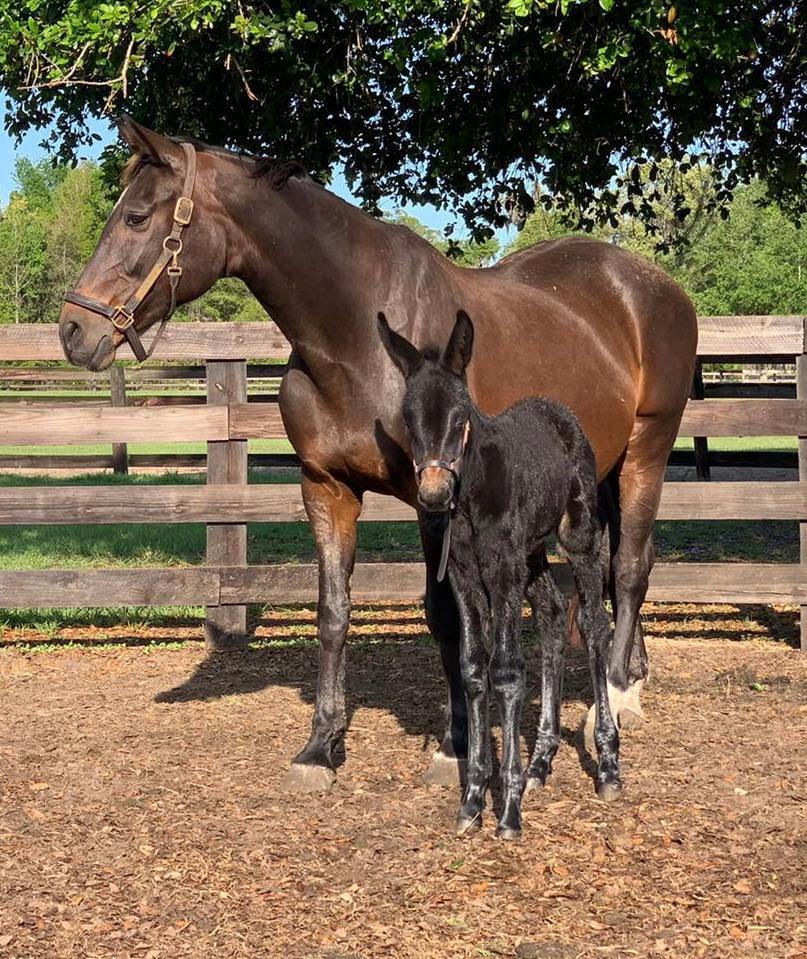 Ally let us in on the details of Rhiana's breeding, "Rhiana is out of an extremely lovely and well-bred imported KWPN Dutch warmblood mare. The mare herself had a successful career before she had several babies. She was 'loaned' to me by a friend of a friend who lives in Arkansas. I was impressed by her movement, lovely temperament and athleticism. Rhiana's sire is a Mammoth Jack donkey named Sycamore Springs Jake who stands in Iowa. He has an impressive, successful show record himself and is considered a 'sport' donkey. I knew absolutely nothing about picking the donkey, so I relied on advice from several others who were kind enough to give me recommendations."
When asked how Rhiana got her name, Ally explained, "Rhiana's mom was a bit older and, even though she conceived immediately with zero problems, we determined fairly soon afterwards that there were some issues with the pregnancy. Placentitis was apparent almost from the start, so she lived on two-weeks-on and two-weeks-off of ABX, along with hormones for the entirety of the pregnancy. On one scan, Dr. Rhiana Ryan couldn't find a heartbeat and thought she might be gone, but we kept going and, sure enough, next time, there she was! The labor was also potentially complicated, so we sent her to Bev Tortora, who Dr. Ryan recommended, to be on the safe side. Dr. Ryan went above and beyond working like crazy to keep this girl alive. She was initially a bit less than thrilled with this crazy idea of a dressage mule, but still gave it her all, so we joked that if it was a 'Molly' mule we were going to name her after Dr. Ryan! Out she came, so Rhiana it was! The show name 'Earrisistible' came from a friend who was my vet in Tennessee for many years."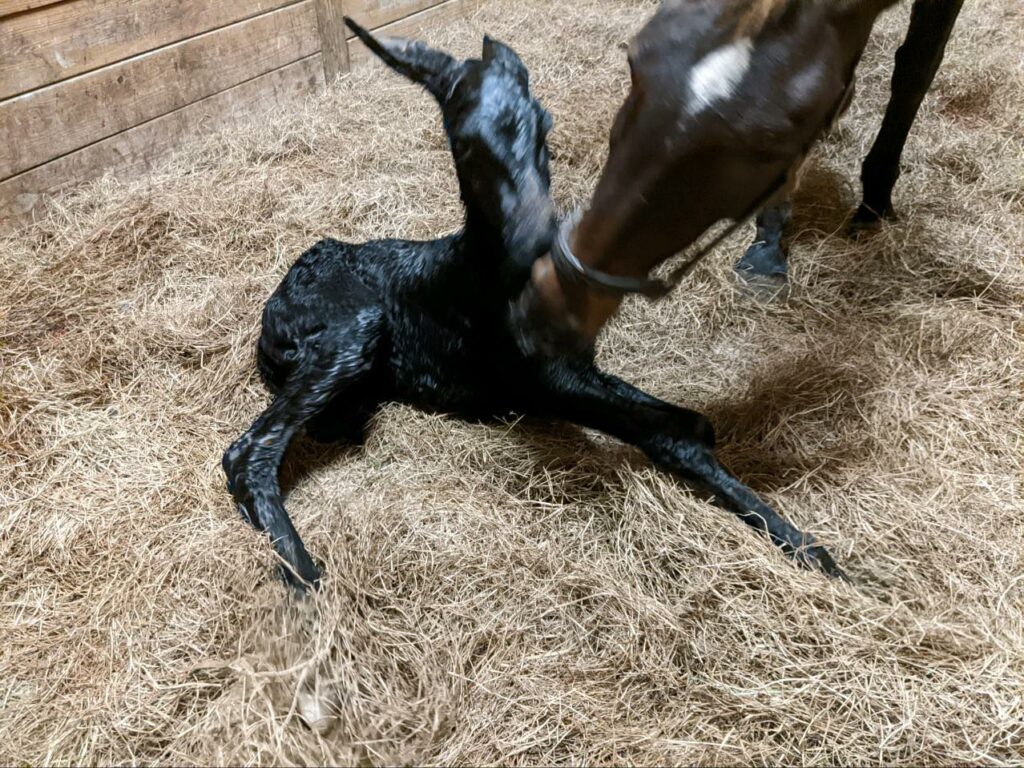 "Rhiana was born March 19th with zero issues and Bev reported one of the fastest labor to nursing she's ever seen," says Ally. "She was super tall with long, long legs (evidently this particular donkey throws babies that are well above 16 hands all the time) and seemed very mature and coordinated for a newborn. She's incredibly social, has zero fear and, in fact, loves all people and will let you do absolutely anything with her. She had her first farrier appointment and first body clipping at just about six weeks and has been broke to lead almost from the start."
When asked what level of Dressage she hopes to train Rhiana to, Ally replied, "She is a lovely mover, no matter her extra-long ears, and I certainly hope she will take to dressage and we will have fun moving up the levels. Mules are very much allowed in U.S. Dressage and I hope we can show that the versatility and intelligence of a mule can also be pretty! She will be my first mule to train, so I expect there will be learning curve that might need to happen due to her having a fairly high intelligence level and opinion on what I'm asking. But, as most who know me will tell you, I've always been drawn to and work best with the difficult mares who have strong feelings about life in general."
Ally greatly looks forward to working with Rhiana and eventually stepping into the Dressage ring with the purpose-bred mule. We also look forward to watching the pair grow and learn together.